Donte Whitner: 'Dak Prescott Sucks, Period'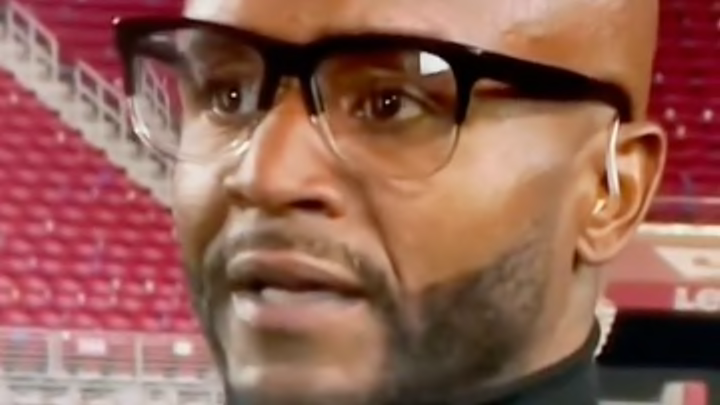 Brock Purdy looked like the NFL's best quarterback and Dak Prescott was straight off the clearance rack during San Francisco's 42-10 dismantling of Dallas last night. It was a measuring stick for both teams and the 49ers have to feel exponentially better about their position than the Cowboys, who are once again forced to confront the difficult question of if Prescott is capable of getting this team into the NFC Championship Game, let alone the Super Bowl, let alone winning it all.
Donte Whitner, a renowned safety known for delivering hits with high PSI and current analyst for NBC Sports Bay Area, has come to his own conclusion and isn't afraid to share it.
"Dak Prescott sucks," he said on the field postgame. "Period. They talk so much about Dak Prescott being a top-tier quarterback, franchise guy. I don't see it. I see them trying to cover up for what he lacks. A lot of quick throws, cutting half the field off and getting him easy throws. Other than that, he's not a quarterback that can drop back and really take advantage of a defense."
Whitner went on to say the the Niners' defense made Prescott look like a tier-four quarterback. That part is harsh, but true for the 60 minutes in question. Then again, San Francisco does that to a lot of quarterbacks. That's why they are clearly the best and most complete team in the NFL right now as we round the quarter-pole of the season.
But Prescott obviously does not suck. Which makes this quite a thing to say on television. Prescott has put together an impressive resumé and should once again be integral in leading the Cowboys to the playoffs. Who knows what his legacy and nebulous tier-positioning would be if he hadn't been forced to play these pesky Niners in the playoffs twice.
Any reasonable person would concede he's, at worst, the 13th or 14th-best starting quarterback in the league. Dallas has never had a losing season with him under center. It's a hell of an ecosystem where someone can, on whole, be above-average at their job and suffer the simple analysis of "he sucks." But hey, the people simply must be entertained.