'We Ain't Going Down, Brother': Stephen A. Smith Promises Shannon Sharpe Success on First Podcast for The Volume
Stephen A. Smith and Shannon Sharpe have already been in the lab.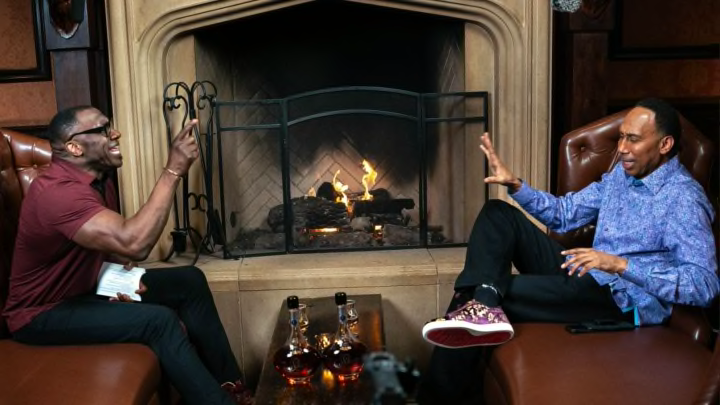 Last week Shannon Sharpe announced he was bringing his Club Shay Shay podcast to The Volume, the digital network and podcasting outfit founded by Colin Cowherd. The multiyear deal includes Sharpe's company, Shay Shay Media, jointly producing new programming with the network. A few days after that, both ESPN and Sharpe confirmed reports that he would be teaming up with Stephen A. Smith on First Take on Mondays and Tuesdays beginning next week, dovetailing with the start of the NFL season for what promises to be appointment television.
But those two have already been cooking in the lab together. In an episode of Club Shay Shay dropping later today, Smith and Sharpe have a wide-ranging conversation in which they touch on all that's happened over the past year and what to expect in the coming year or years to come.
The duo continued to walk the line between not shying away from all that comes with being in the boldest sports media headlines without being too critical, especially on the topic of Skip Bayless, who they both credited as instrumental in bringing them to where they are in the industry today.
"No matter how problematic — and he can be problematic at times — the reality is that I wouldn't be where I am today if he didn't give me that opportunity on First Take," Smith said. So for me to be where I am and to know that it springboards off of something that he was directly involved in making happen, for me to insult him in any way is just disrespectful, it's wrong and it's something that I will never do."
"For me, I cannot let six months ruin six and a half good years," Sharpe said. "Because sometimes people are willing to throw everything away for one mistake, one bad comment or one something like that."
Anyone who watched the final embers of Sharpe's Undisputed run fade has to conclude that there were some elements that stung. It's been a story with many chapters but by the end of this conversation, it seems safe to assume there's a lot more attention being paid to what's through the windshield and not in the rearview mirror.
"Listen, I got a lot of friends over there, alright, we all know that," Smith said. "I know a lot of people but that doesn't mean what happened to you is fair. Plain and simple. That ain't the end of the world but it is what it is. To me, it was just important for us in this industry to stand up and say yo, he's one of us, you can't let him go out like this. And that was it for me. You can go wherever you want, you can come to First Take, fine. You want to go somewhere else, fine."
"I told you this and I'll tell the audience that I told you this. I said you might be at First Take for one year, you might be at First Take for years to come. It's my responsibility — and I'm dead serious as a heart attack — to make sure that you are more successful with me than you were before you arrived. I'm going to make sure it happens, come hell or high water. We ain't going down, brother, we only going up."