Boomer Esiason Floats Saquon Barkley Trade to Bills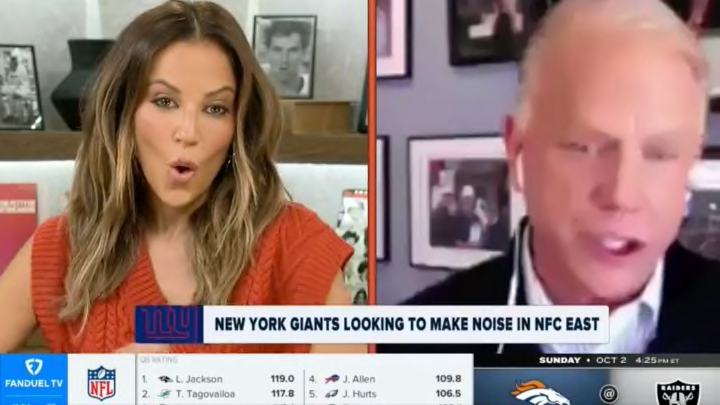 Kay Adams and Boomer Esiason /
The New York Giants are 2-1 yet still aren't quite as good as their record implies. They're better than they have been since Eli Manning's last good years, but that isn't saying much. Brian Daboll has done a good job turning the offense into an average unit and the defense is no longer entirely devoid of talent. Daniel Jones, however, does not look like he's taken the steps required to turn the team into a playoff contender this season and at the end of the day NFL teams go as far as their quarterback can take them.
No one has enjoyed more of a resurgence than Saquon Barkley, though. Fully healthy with a modern offensive system in place, Barkley has been nearly as good as the Giants hoped when they took him No. 2 overall in the 2018 NFL draft, averaging six yards per carry on the season. On many possessions he is the sole bright spot of the offense.
Yet Boomer Esiason thinks the Giants will consider trading Barkley before the deadline on November 1. And he has an ideal trade partner in mind-- the Buffalo Bills. As told to Kay Adams on her new Up & Adams show:
Why would the Giants trade Barkley? Well, Esiason states he thinks Barkley is currently as good as he'll ever be in the NFL. He'll be a free agent next year. He appears to be on track to have a good enough season that he'll generate significant interest in free agency but not such a good season that the Giants feel like they have to re-sign him. In that case they'd be in line for, at best, a third-round compensatory pick but that can change very easily as it's based off the contract Barkley would sign with a new team in free agency and there's no way to predict how that will go. It would be smart to see if they can get a concrete pick at the deadline rather than hoping things work out next spring.
Would the Bills be willing to tango? Adding Barkley would solve most of their issues with the run game, although some of the blame has to go on Ken Dorsey for calling a disproportionate amount of pass plays as he did against the Dolphins last week. It would be a risky addition, though, because New York would likely only be willing to talk if Buffalo wants to give up at least a third-round pick. Anything less, they could just wait for the comp pick in free agency. The Bills have been excellent in the draft under Brandon Beane so there's a real opportunity cost in trading even a third-rounder.
On top of it all, Barkley would be a rental. The Bills are a smart NFL team and no smart NFL team is going to give Barkley a decent-sized contract on the open market. That's simply how it is for running backs these days. Is Buffalo willing to pull an NBA contender, all-in type move by swapping a pick for a proven player at a position of need?
That has rarely worked in the NFL. The Bills know this. But Barkley and Allen running read-options is a very enticing possibility. Esiason may be onto something.