Ken Dorsey Lost His Mind in the Booth After Bills Loss to Dolphins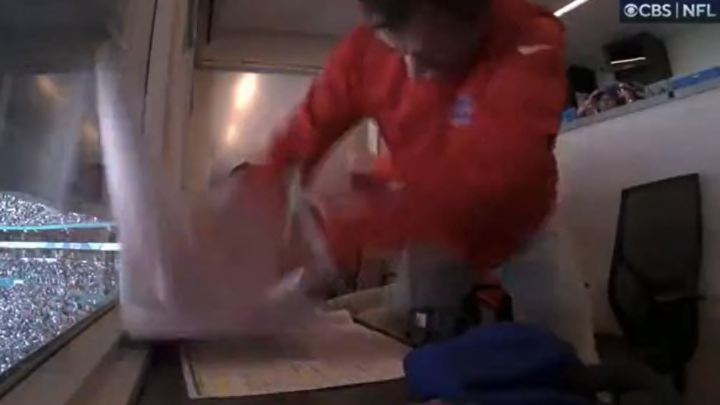 The Buffalo Bills lost to the Miami Dolphins 21-19 on Sunday in an excellent NFL game that went down to the wire. The ending did not make Bills offensive coordinator Ken Dorsey happy.
After a blocked punt turned into a Dolphins safety, the Bills got the ball back with 1:33 remaining in the game down 21-19. Josh Allen began to march the team down the field and Buffalo had the ball on Miami's 43-yard line with 27 seconds left with a first and 10. There was a decent shot at a field goal if the Bills executed. They didn't.
Allen threw an incomplete pass on first down, then on second down right tackle David Quessenberry was flagged for holding. That made it second and 20 from Buffalo's 47-yard line with 18 seconds left. Allen then dropped back under heavy pressure and dumped the ball to Isaiah McKenzie for a 12-yard gain to Miami's 41-yard line. McKenzie couldn't get out of bounds and the Bills couldn't spike the ball before the clock ran out.
Here's the final play:
Here's how Dorsey reacted to that sequence:
That's probably how most Bills fans felt about it. It looks like he broke the in-booth camera, so CBS might be sending him a bill.