Eagles Score Touchdown After Ron Rivera Fails to Challenge Fourth Down Incompletion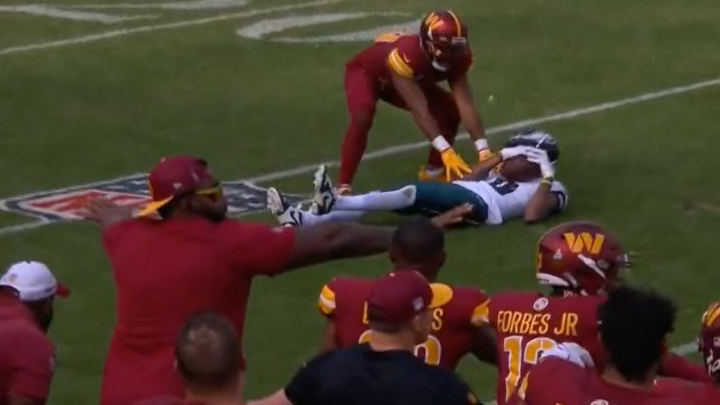 The Washington Commanders are trying to pull off an upset in Week 8 as they take on the Philadelphia Eagles at home. First they kicked a 61-yard field goal to take a 17-10 lead into halftime. Then in the third quarter they did the impossible and stopped the Tush Push on the goal line by causing a Jalen Hurts fumble. Everything was coming up Milhouse until Hurts completed a 17-yard pass to DeVonta Smith on 4th-and-4. Except the ball hit the ground and it should have been ruled incomplete.
You can see that people on the Commanders' sideline saw the ball hit the ground, but with the call on the field a completion and first down, the Commanders needed to challenge the call. And yet the red flag stayed on Ron Rivera's person while the Eagles hurried up and got off their next play. A couple plays after that Hurts hit AJ Brown for his second touchdown of the game and it was all tied up at 17.
If the Eagles go on to win, this failure to challenge will be an obvious turning point in the game. With Washingon having lost four of five coming into this game, it could also be one of those things that people point to when they say that it might be time to move on from Rivera. One last game ball for the road?
UPDATE: Here's what Rivera had to say about the incompletion after the game.