Stop the Presses! Jalen Hurts Fumbles on a Tush Push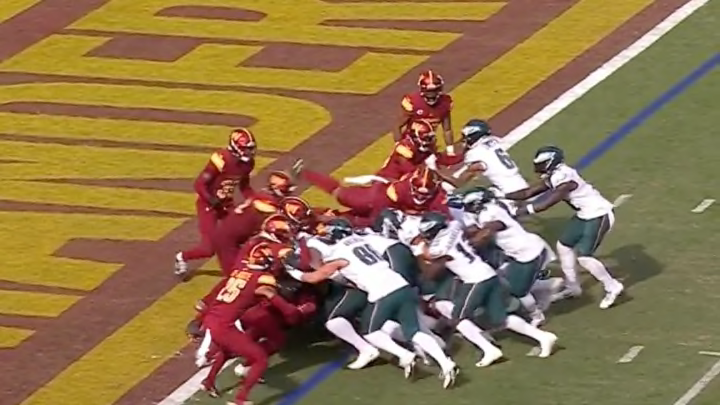 Last year the Philadelphia Eagles discovered they had a bit of a cheat code on short-yardage situations thanks to the combination of Jason Kelce and Jalen Hurts. They rode the Tush Push or Brotherly Shove or Ass Mash to the Super Bowl and somehow got even better at the play in the offseason to the point that there's been widespread conversation about its legality. Which, of course, is a bit silly because any team that wanted to could try to do the exact same thing.
And every now and again we're reminded that even though thoroughly and numbingly effective, the play does not work every single time. Like this afternoon when the Eagles attempted to plunge in the game-tying score from one yard out and Hurts coughed up the ball. On first down nonetheless!
The Commanders currently hold a 7-point lead over the Eagles midway through the third quarter because division games get weird and the march to a playoff bye always comes with some surprises. And it's probably borderline insane to say this was on purpose as part of a long play to preserve the play's legality, though fumbling it a few times would go a long way in proving it's not that much of an unfair advantage. So we won't.