Robert Saleh's Jets Escort Shoved Metlife Stadium Security on the Way to the Locker Room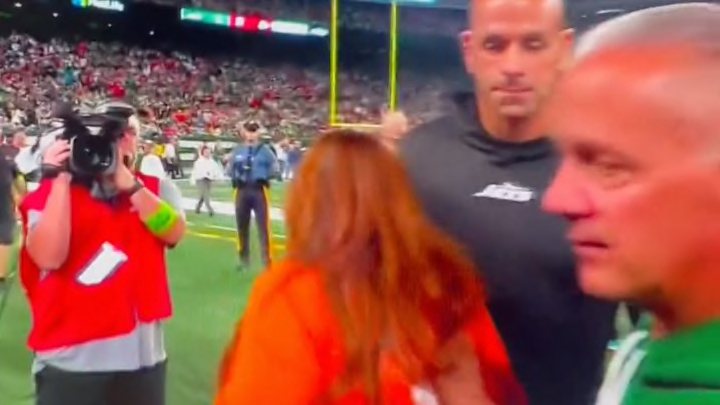 The New York Jets were able to keep it close in the first half against the Kansas City Chiefs on Sunday Night Football in front of Taylor Swift at the Meadowlands. It went so well in the first half for the Jets that Robert Saleh got to do the interview with Melissa Stark going into halftime. At the conclusion of the interview, Saleh said thank you and headed to the locker room. As his Jets-branded handler turned he bumped into a woman working security at MetLife Stadium and appeared to just kind of shove her out of the way.
To Saleh's credit, he saw it happen and stuck out his hand to grab her arm and make sure she was OK before he continued to follow his guide, so he's clearly not to blame here. Whoever the other guy was, it doesn't really matter because you can't just shove somebody because you bump into them, no matter which one of you was the one just standing there. It doesn't matter if you're the get back coach or whatever.
The closest example to this that comes to mind is when Davante Adams shoved a cameraman after a Raiders game last season. No matter who you are to an NFL team, there are other people working at the stadium that make it possible for the game to be played. They have a right to be there and you can't just push them out of the way.