Roundup: Colin Kaepernick Working Out For the Raiders; Tom Brady's Hole-in-One; Celtics One Win From NBA Finals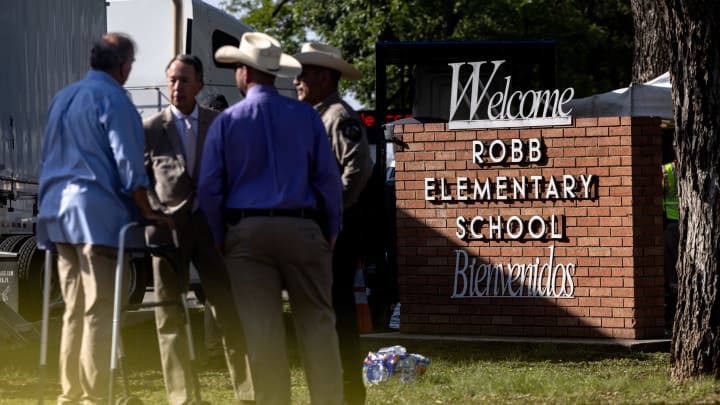 Jordan Vonderhaar/GettyImages
The police on the scene, the good guys with guns, they waited 40 minutes while the shooter killed 19 kids ... How two Texas newspapers broke open the Southern Baptist sex scandal ... Everything about this Seth Green NFT story is profoundly stupid ... Baseball's biggest secret can be found in a New Jersey mudhole .... Users telling pro-gun politicians to 'f*ck off' are getting flagged by Twitter, told to be nicer ... Pepsi to remain in the Super Bowl halftime game ... Woman who wrote 'How To Murder Your Husband' found guilty of husband's murder ... Former NFLer Ricky Williams has legally changed his name to Errick Miron ... Eruption of underwater volcano home to mutant sharks pictured by Nasa satellite ... U.S. Women's National Lacrosse Team dedicates June 8 exhibition match to mental health awareness and Morgan's Message ... Josh Duggar sentenced to 12 years in prison ... Celtics beat the Heat, are one win from NBA Finals ...
Austin Butler is a hunk of burning love [British GQ]

'Top Gun' is stupid, brilliant, dated, timeless, and perfect [The Ringer]

Mandy Moore is a star reborn [Vanity Fair]

Dan Le Batard: 'When are we going to do something?' [The Big Lead]

Jalen Rose voted Kyrie Irving third team All-NBA. Stephen A. Smith lost his mind [The Big Lead]

Colin Kaepernick has a workout with the Raiders [ESPN]

Deshaun Watson has admitted to having consensual sex with three of the massage therapists [PFT]
Not to be a conspiracy theorist or anything, but is there any chance this is fake?
The official Baby Fever trailer from Netflix.
A follow-up from Mad Dog after his First Take segment.
This will ruin your day.
My Chemical Romance -- "I'm Not OK" (I Promise)