The Fan Fight Videos From the Raiders-Chargers Game Keep Rolling In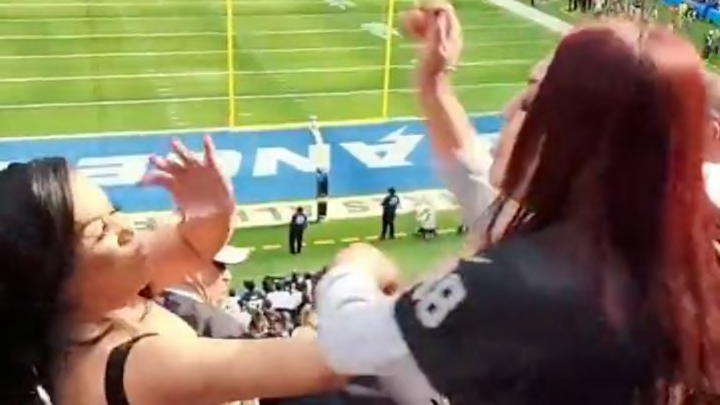 Evidence is beginning to become a bit overwhelming that the single worst collection of people to ever be in the same spot together is on NFL Sundays. Like clockwork, dozens of heated verbal interactions that escalate into bonafide physical violence fly onto our desks each and every week. Yet is rare that a single game yields three such videos so we simply must pause and wonder what the hell was going on at the Las Vegas Raiders-Los Angeles Chargers tilt at SoFi Stadium over the weekend.
There was the dude in a Justin Herbert easily defeating the dude in a Howie Long jersey. There was the bro incessantly screaming at Mark Davis to fire Josh McDaniels. And apparently these two patrons allowed a classic sit vs. stand debate to devolve into pure chaos.
There's no need to wait for the All-22 to realize that, yet again, having the high ground is imperative. Not that people who are willing to brawl amid 65,000 of their peers are doing much in the way of calculations. But time and time again these fisticuffs support what war generals have believed for thousands of years.