Mark Davis Got Fed Up With a Fan Screaming at Him to Fire Josh McDaniels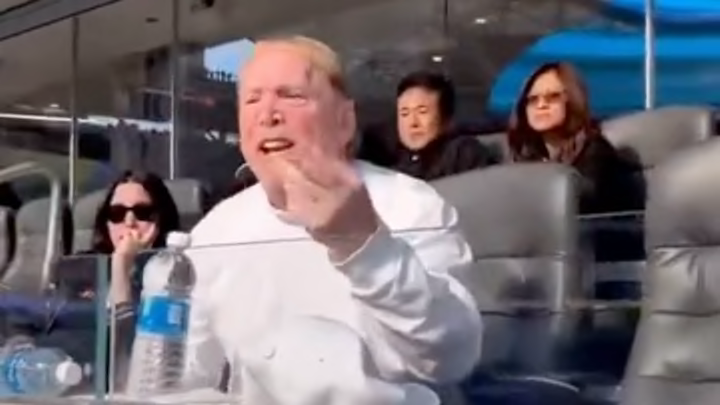 There's a video of Las Vegas Raiders owner Mark Davis responding to fans who were filming him and yelling at him to fire coach Josh McDaniels and for the life of me I cannot understand why anyone would think it reflects poorly on him. The exchange happened during the Raiders' 24-17 loss to the Los Angeles Chargers on Sunday when a gaggle of bros decided to create content by screaming in front of the owner's box.
It takes a special set of circumstances for us to go full-on pro-owner mode but ancillary footage from the scene makes a pretty compelling case that if there's a bad guy here, it is not the man who loves P.F. Chang's and rocks the Skeletor haircut.
There is only so long a person can ignore this type of behavior. It's like when there's a bee in the car and pretending it's there is not going to make it go away.
To be fair, McDaniels has not covered himself in glory this season and his decision-making against the Pittsburgh Steelers the other week really left something to be desired. So it's not like it's a terrible argument. But even the most noble causes can fall apart when cloaked with in-your-face screaming and robust profanity.