Chargers Fan Beats Up Raiders Fan In Stands at SoFi Stadium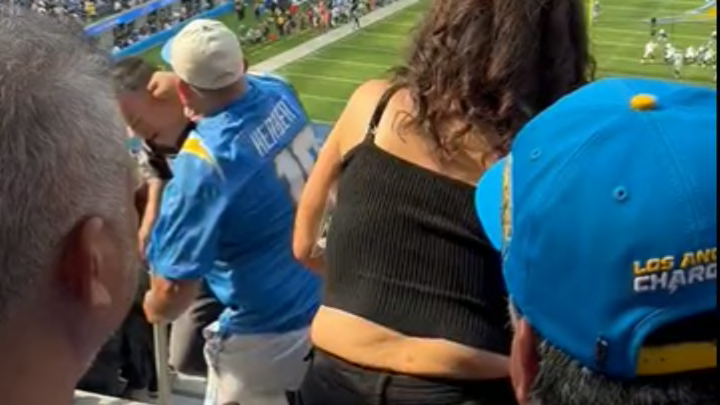 The Los Angeles Chargers and Las Vegas Raiders played a game that was far closer than it should have been on Sunday at SoFi Stadium. While the game on the field wasn't a blowout, a fight between fans in the stands was. A Chargers fan was caught on camera beating up a Raiders fan.
Obviously we're not privy to the words spoken between these two gentlemen, but a Chargers fan in a Justin Herbert jersey and a Raiders fan in a Howie Long jersey stood in the stands jawing at each other. As Long jersey guy moved up the stairs to get closer, Herbert jersey landed a hard right hand on his temple, flooring him. When the Raiders fan got to his feet he was woozy and the Bolts backer landed a glancing left hand, then shoved him down. Then Long jersey tried to get to his feet and was thrown down the stairs. Things were broken up quickly after.
Check it out below:
That guy hits harder than the Chargers' defense.
Anyone in Southern California will tell you this kind of thing happens every time the Raiders and Chargers face each other. I'm sure there were other fights in the stands as well.
On the field, the Chargers won 24-17 but probably shouldn't feel good about it. They led 24-7 at the half as Raiders quarterback Aidan O'Connell looked completely overmatched at the NFL level. LA's offense was a mess in the second half and the defense allowed Las Vegas to move the football late. The Raiders wound up three yards away from tying the game when O'Connell threw a back-breaking interception in the end zone.