Raiders DT Jerry Tillery Ejected After Extremely Late hit on Justin Herbert Sparks Fight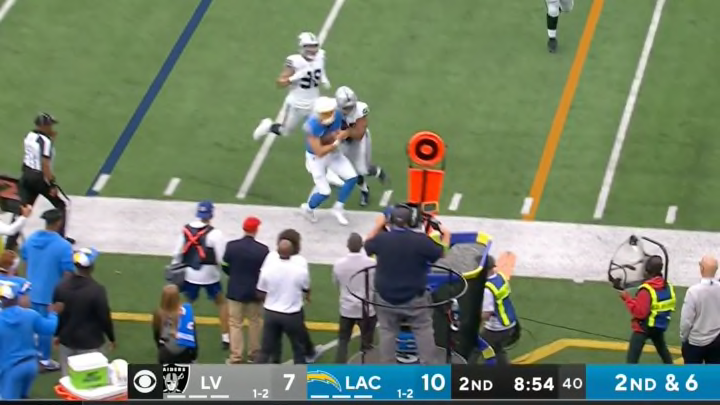 Justin Herbert /
On Sunday, the Los Angeles Chargers hosted the Las Vegas Raiders in the late afternoon slot of the NFL schedule. The game was surprisingly close in the first half given the Raiders were forced to start fourth-round rookie Aidan O'Connell due to a Jimmy Garoppolo injury. About halfway through the second quarter the Chargers were up 10-7 and then chaos erupted.
On a second down in Raiders territory, Herbert took a shotgun snap and was immediately under pressure from Maxx Crosby. Herbert juked the hell out of Crosby before running to the sideline. He pulled up well before the first-down marker, ready to take a few yards and no more, and jogged out of bounds. A full second after he stepped out Herbert got drilled by Raiders DT (and former teammate) Jerry Tillery.
As you might imagine the Los Angeles sideline did not take this very well and Tillery quickly found himself alone in a sea of powder blue, surrounded by Chargers ready to fight. The smacking, pushing, and shoving started before Tillery got some reinforcements and both sides got real chippy.
Shockingly, Tillery did not only get a 15-yard penalty for the late hit but he also got ejected. Which is rare. A player has to do something quite egregious to earn an ejection in an NFL game. This definitely qualifies.
Fortunately Herbert was not hurt on the play and threw a TD pass a few minutes later. All's well that ends well for the young QB and the Chargers. The Raiders and Tillery... not so much.