Fight Breaks Out Between Cardinals, Commanders After Big Late Hit on Sam Howell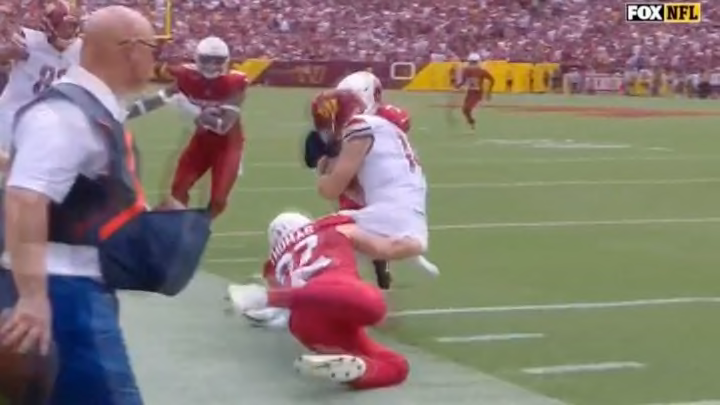 Sam Howell /
Sam Howell made his second NFL start on Sunday for the Washington Commanders, taking on the visiting Arizona Cardinals. This year's Cardinals are a pretty solid draw for a young QB given they stink out loud in every aspect. Howell still struggled to get much going in the first quarter and then got absolutely clocked on his way out of bounds on a scramble near his own endzone.
Cardinals linebacker Kyzir White was the offender and was flagged for his hit. Both teams engaged in some classic pushing and shoving afterwards. It also seems that a referee got hurt.
Howell hopped back up and re-entered the huddle but was quickly taken to the blue tent on the sideline, presumably for a concussion check. He was in the game shortly thereafter so it seems like he escaped this without injury. Howell would go on to lead the offense down the field and scored the first TD of the game. It would seem the hit injected some energy into everybody.
Pretty shocking that White didn't get hit with an ejection, to be honest. That was late late and the reaction from Howell's teammates shouldn't surprise anybody.
Love some early-season fireworks, though. Football, baby!