Fight Breaks Out in Packers-Bears Game After Hit on Justin Fields
A clean hit, but the Bears didn't like it.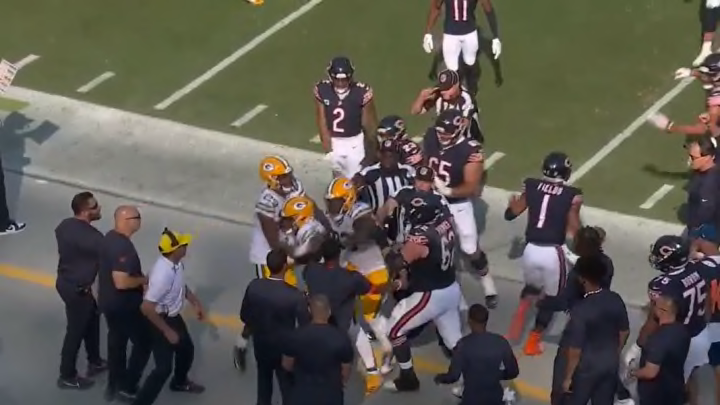 The Green Bay packers and Chicago Bears start a new era of their rivalry this season, as Jordan Love and Justin Fields are now the quarterbacks who will duel with each other for the foreseeable future. On Sunday, tempers between the two sides rose following a hit to Justin Fields as he headed out of bounds. A fight ensued after the play.
Here's video of the hit:
And the aftermath:
That's a legal hit, as this photo shows:
Regardless, the Bears didn't love to see it. It caused offsetting penalties for unnecessary roughness against Chicago's Chase Claypool and Green Bay's Tedarrell Slaton.
We love seeing things get chippy early in the NFL season, especially between two teams not expected to make the playoffs. The Bears are clearly pretty protective of their young quarterback, as they should be.
Aaron Rodgers is gone from this rivalry for the first time since 2005. A new era, indeed. But as you can see, the fire is still there.