Phillies Fan On the Field Gets Completely Destroyed By Stadium Security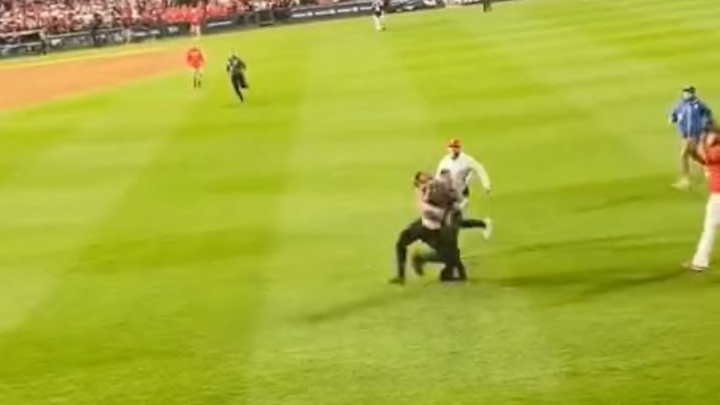 Look, running out onto the field at a Major League Baseball game is always a no-no and trespassing onto that carefully manicured grass comes with significant risk of getting bulldozed by a security guard who has dreamed his whole life of blindsiding a fool. We all know this. But if ever there were a team that could create a frenzy even the most self-controlled couldn't stifle, it's this year's Philadelphia Phillies. They play extremely loud and extremely well and Citizens Bank Park feels a lot like a rock concert to match the overall aesthetic of a lineup and pitching staff that belongs on a concert poster opening for Bring Me The Horizon.
So maybe the fan who broke contain and ended up in the field during the Phillies' Game 2 rout of the Arizona Diamondbacks last night could use this evidence in their defense. Hell, if he needs pointers, a group that famously used a World Series argument to weasel their way out of criminal charges was also in attendance.
But those are considerations for a later time and a more legally competent crowd. What's important right now is to marvel at just how hard of a hit this individual sustained.
We've seen a lot of these through the years and this tackle is easily on the Mount Rushmore. The closing speed. The commitment of driving through the person and into the crowd. The ability to keep two arms around the intended target and presence of mind to pop back up and keep him on the ground. Expert work. Put it on an instructional video. Actually put it on instructional videos — both for stadium security and for aspiring strong safeties.