Peter Doocy Got Poked and Pointed at By Joe Biden After Two Bad Questions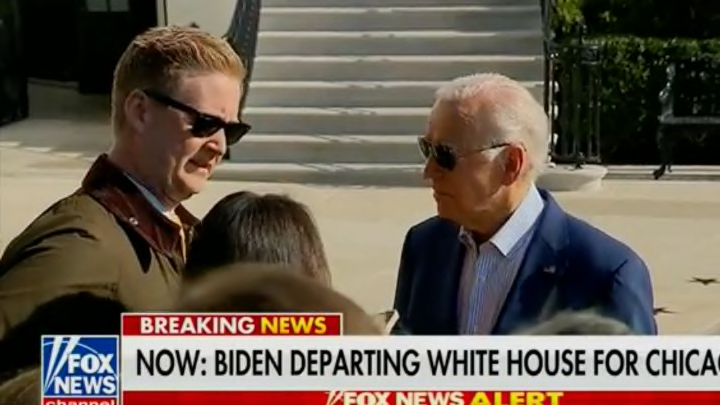 When Joe Biden left the house this morning Peter Doocy was outside waiting. Doocy was there for FOX News as part of a press gaggle that had some questions to shout at the President as he headed to his helicopter on Thursday. In this very short clip Doocy does his thing and ends up getting manhandled by the President.
Doocy started by interrupting a fellow member of the press who was trying to ask a follow-up question about recent US airstrikes in Syria on the Iran Revolutionary Guard. Keep in mind that Doocy has not been kept waiting here. This is within five seconds of Biden getting close enough to talk. Doocy immediately shoots an annoyed look at the other reporter while Biden gives him a look and prepares for what is about to be the longest 30 seconds of his day.
Doocy's first very important question meant to kickstart multiple segments on FOX News today: "Why do you think it is that you think it is that people should be more concerned about abortion access than your age?"
This question was so convoluted that Biden needed to grab Doocy's arm to steady himself. Biden gave the question, which no one could have possibly prepared for, the consideration it deserved by saying it's not a "comparable comparison."
With Biden not giving Doocy a soundbyte for that one he launched into his next question about The Polls which show Donald Trump leading Biden in next year's election. Biden responded by putting his finger in Doocy's chest and telling him to check out the eight other polls that showed he's leading. He even offered to get him copies of the others.
This really was the total Peter Doocy experience. He interrupted someone, asked one really bad question, and then got an animated reaction out of Biden with another. All in less than a minute. And that's why he's Peter Doocy and you're not.