Joe Biden Tells Peter Doocy He Asked a Lousy Question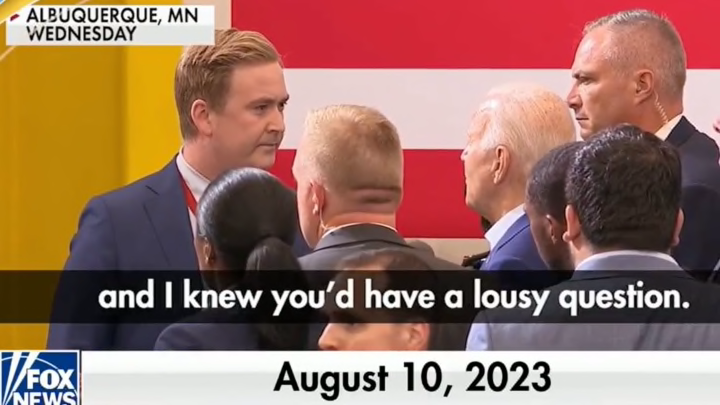 Fox News' Peter Doocy returned from paternity leave this week only to find that the White House had taken the show on the road. Doocy caught up with President Joe Biden in Albuquerque on Wednesday where he stopped him in a crowd and asked him about talking business on speaker phone, an accusation that was shot down by a witness while Doocy was still out on leave. Biden wasted no time welcoming Doocy back by saying, "I never talked business with anybody and I knew you'd have a lousy question." It's like he never left.
This clip opened Thursday's FOX & Friends with a warmed-up Sean Hannity voiceover that said, "Joe Biden exploded at our very own Peter Doocy for daring to ask this question." Using another clip of Doocy doing a talking head from Wednesday on the road, we then hear the new father saying, "Tonight, I'm wondering, what is the right question?"
It's unclear if Doocy figured out what the right question is, but it might have been "What state is Albuquerque in," because it's not Minnesota. Good thing the graphics department didn't book his flight.
Hopefully we'll see Doocy back in his natural habitat, the White House briefing room, soon.