Mac Jones Freaks Out at Demario Douglas After Bizarre Incomplete Pass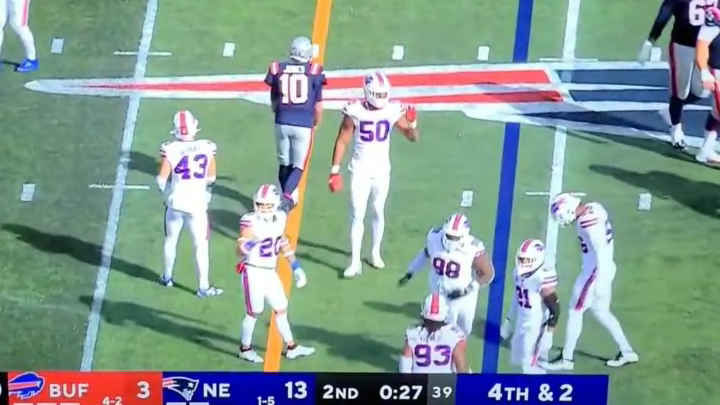 Mac Jones /
The New England Patriots shocked just about everybody in the football world on Sunday when they played pretty well for an entire half against the Buffalo Bills. Josh Allen was unable to do much other than hit the sound guy on the sideline and Mac Jones went 11-for-14 in the first half. Basically, the game went the exact opposite everyone expected for the first 30 minutes.
However, all is still not perfect with the Patriots. Near the end of the first half New England had the ball and faced a third-and-two as the clock wound down. Jones dropped back to pass and appeared to try to target rookie Demario Douglas. However, something happened mid-throw and Jones tried to pull the ball back and ended up spiking it into the ground. It was kind of weird. Film review suggested Douglas made the wrong read with the defense in zone coverage.
Jones let Douglas have it after the play.
Certainly not great, but it's also more emotion and energy the Pats have shown all season. This is also one of the few times Jones can justifiably blast a teammate. By and large he has not played well enough to be critiquing anybody. Today, though, he gets a pass.
Bill Belichick would probably prefer his players yelling at each other out there than moping around like the season is over already. Which it kind of is. But still a lot of games to play.