Ben Affleck's Nike Air Jordan Movie Does Not Contain Much Michael Jordan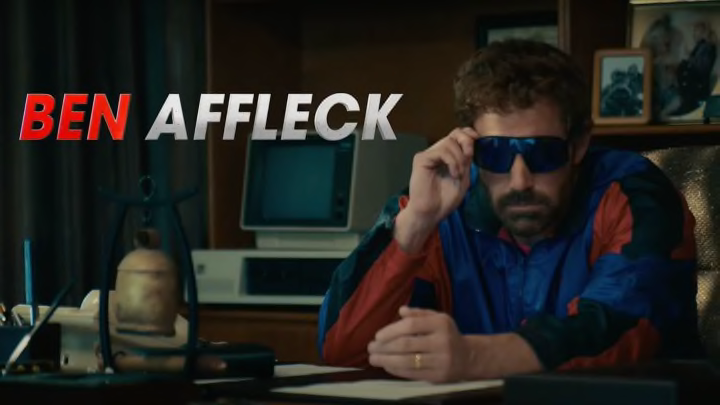 The official trailer for AIR was released today and it looks amazing. The movie hits theaters on April 5 and it looks awesome in that high quality drama about something that is historical and important but it's hard to take seriously no matter how well its done way. Like The Social Network but for sneakers. Ben Affleck directs and plays Phil Knight while Matt Damon plays Sonny Vaccaro as they try to save Nike by signing rookie Michael Jordan, who doesn't really appear in the trailer.
There are a lot of standout moments in this trailer. Like when Affleck says "a rookie who has never stepped foot on an NBA floor" and Damon says, "That's the literal definition of rookie," which is not true.
A few seconds later Damon dramatically says, "I need the best basketball shoe that's ever been made." He says it while walking dramatically. Asked who the shoe is for, Damon, in a close up reveals a major spoiler.
The only glimpse we appear to get of Jordan is the back of him as he walks into Nike headquarters, presumably for the first time. No one is credited as Jordan on IMDB or Wikipedia, so maybe Michael Jordan doesn't even appear in the movie about Nike signing Michael Jordan, which is a choice.
Maybe it's smart because Jordan is one of most recognizable humans ever. Or maybe he exists in this movie like George Steinbrenner on Seinfeld or Dr. Claw on Inspector Gadget. It appears that Viola Davis, playing Jordan's mother, will do most of the negotiating for the Jordan family while Julius Tennon, as James Jordan, gets to react to the people who upset his wife by doing things like offering their son a lot of money or going to their house to talk about giving their son a lot of money.
Of course, Damon is the real star of the trailer. He gets to do multiple titular line worthy deliveries, like when he *spoiler alert* reveals the shoe is going to be called the Air Jordan.
Then Affleck gives that look that says he doesn't really like it and the crowd all laughs because they totally do call it that and it works out quite well for everyone involved!