Biggest Losers From 2020 NFL Free Agency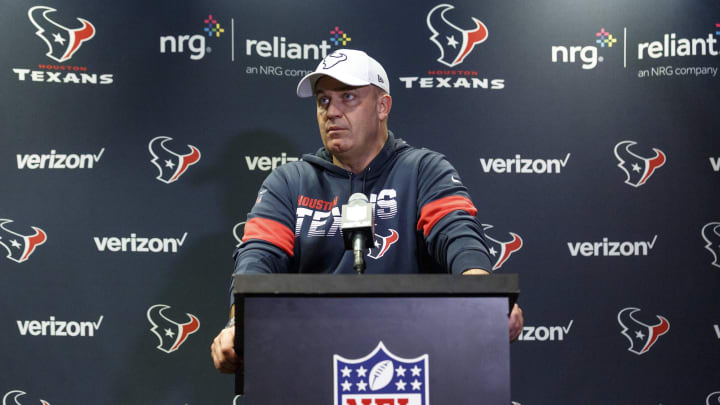 Bill O'Brien / Don Juan Moore/Getty Images
NFL free agency has all but wound down, as most of the top available players are off the board. Here's a look at the biggest losers from free agency this year.
Houston Texans
This one is easy. The Texans traded DeAndre Hopkins to the Arizona Cardinals and didn't get a first-round pick in return. They wound up accepting David Johnson's ridiculous contract, a second-rounder and a swap of fourth-rounders. That's it. They gave up one of the best receivers in the NFL -- who was under contract for three more seasons -- and got very little value in return. Then they sat back and watched while the Vikings got a haul of draft picks (including a first-rounder) in exchange for Stefon Diggs.
But fear not, Texans fans. Bill O'Brien, in his infinite wisdom, managed to replace Hopkins with (checks notes...) Randall Cobb. Randall Cobb?!? Yes, O'Brien gave a rapidly disintegrating Cobb a three-year, $27 million deal with $18.75 million guaranteed. That contract was almost as crazy as the Hopkins trade.
It's worth noting the Texans don't have a first-round pick in the 2020 or 2021 drafts, so replacing Hopkins with a top-tier talent will be incredibly difficult. Bill O'Brien should have been fired months ago. Now the Texans are entering 2020 almost completely disarmed by his stupidity.
New England Patriots
The Patriots blew it this offseason. They lost the man who has been the face of their franchise for two decades. They let the greatest quarterback of all-time walk away and he left them without a clear succession plan. It is a bungled mess and a gaping hole that hasn't been patched by the addition of Brian Hoyer. New England still has a huge question mark under center, with Jarrett Stidham and Hoyer the team's only options.
The Patriots also lost Kyle Van Noy, Jamie Collins, and Danny Shelton, while releasing Stephen Gostkowski and trading Duron Harm. They didn't add much to replace them.
Bill Belichick always has a plan, but so far this offseason it seems like whatever he's got baking hasn't risen yet. As of now, the Patriots look nothing like a competitive roster.
Chicago Bears
What, exactly, is going on here? The Bears are obviously fed up with Mitchell Trubisky, so they needed to find someone else at quarterback. For some reason, they settled on one of the worst options out there by trading for Nick Foles and his terrible contract.
With Jameis Winston unemployed and the Panthers looking to offload Cam Newton before he was released, the Bears decided to bypass both and add a guy who has never played a 16-game season, hasn't topped 11 games since 2015, and hasn't been great when he's actually played. Except for a few nice stretches with the Eagles, Foles has been a disappointment.
If that wasn't bad enough, they overpaid Jimmy Graham and Robert Quinn while watching Nick Kwiatkoski and Leonard Floyd leave. This offseason reeked of desperation from general manager Ryan Pace and I'm not sure the Bears got even a little bit better.
Los Angeles Rams
Cash-strapped after a bunch of big moves over the past few years, the Rams were forced to sit on their hands as a lot of players departed. Dante Fowler and Cory Littleton bolted, then LA had to release Todd Gurley, Nickell Robey-Coleman and Clay Matthews. The team's only signings of note were defensive tackle A'Shawn Robinson and Leonard Floyd, who aren't game-changers.
It's also worth noting the Rams have traded away a ton of draft picks over the last few years as they were in "win-now" mode. So it will be incredibly difficult for the team to restock its roster. The Rams don't have a first-rounder in 2020 or 2021, which means they could be rebuilding and dumping older players soon. That's not a great situation when you're moving into a new $5 billion stadium and owe Jared Goff an absurd amount of money in the coming years.
Jameis Winston
Winston entered the offseason with an uncertain future and it has gotten even more murky as the QB carousel comes to a halt. The former No. 1 overall pick had a ridiculous season in 2019; he led the NFL in passing yards (5,109), was second in touchdown passes (33), and tied for fourth in yards per attempt (8.2), but he also threw 30 interceptions.
Still, for all his faults (and there are plenty), Winston is only 26 and has a ton of talent. He's certainly better than a few quarterbacks slated to start for their teams in 2020. The fact that his market dried up so fast shows what the league's teams think about him. Hint: it's not good.