MLB Should Shut Down the Houston Astros For the Rest of 2020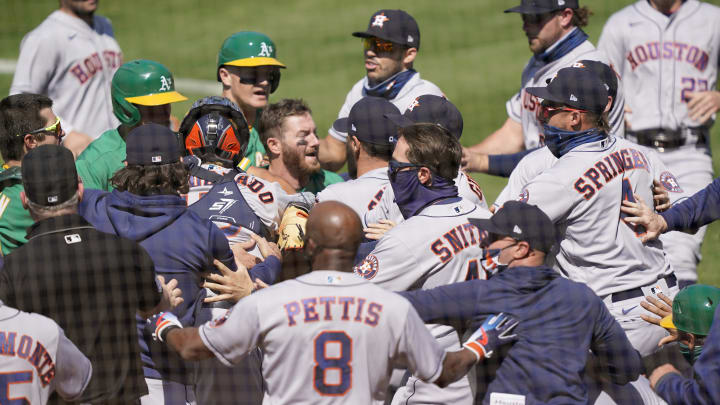 Houston Astros and Oakland A's "brawl." / Thearon W. Henderson/Getty Images
The time has come to defund the Houston Astros. Or dissolve them. Or just suspend the entire organization for the entire season. Take your pick because whatever Major League Baseball has done so far is not enough. That has become apparent through a quarter of the season.
Dodgers reliever Joe Kelly got an 8-game suspension for his role in a benches-clearing incident two weeks ago which would not have happened if the Astros did not exist. Quite simply, the Astros are a distraction. Opponents feel disproportionately encouraged to throw at them, which makes sense because baseball sticks to the antiquated idea that players "police" the game, which they can only do by throwing fastballs at each other's heads. They have to do this because MLB is toothless and actually sticking up for them. Those who cheated the most were not punished. The 2017 World Series trophy remains in their possession.
Then there are the Astros, who are throwing at other teams, like the Oakland Athletics. Over the weekend Houston met the Athletics who employ former players Mike Fiers and Ramon Laureano. Fiers blew the whistle on the Houston cheating scandal in November. Laureano spent his minor league career in the Houston organization and suffered the consequences when he was hit three times over the weekend.
That series of events culminated in a bench- and stands-clearing baseball brawl where approximately one half of a punch was thrown and a few dozen people came together in a small space to huff and puff and shout in the midst of a pandemic. Like all bench-clearing basebrawls, it was a big waste of time and energy, but this had the added benefit of possibly spreading a virus. Here's a breakdown of the culmination of a weekend of frontier justice.
That was a coach who instigated the situation. He deserves to be suspended. He seems like a perfect encapsulation of the organization that Dusty Baker was apparently brought in to clean up.
So not only are teams encouraged to throw at the Astros, but the Astros are throwing at former players. So why not just shut this thing down? The organization has not faced any real consequence aside from Jose Altuve turning back into a tiny gourd.
Making the Astros end their season with a shameful 6-9 record would be the perfect way to ensure they are both punished and laughed at for the rest of baseball history. Then MLB could ease that extra tension that they don't need to deal with during a very complicated season. And if the rest of the season ends up getting canceled, it at least seems like the Astros were properly punished.