Mike McDaniel Sprinted Away From NBC's Cameraman at Halftime of Dolphins - Patriots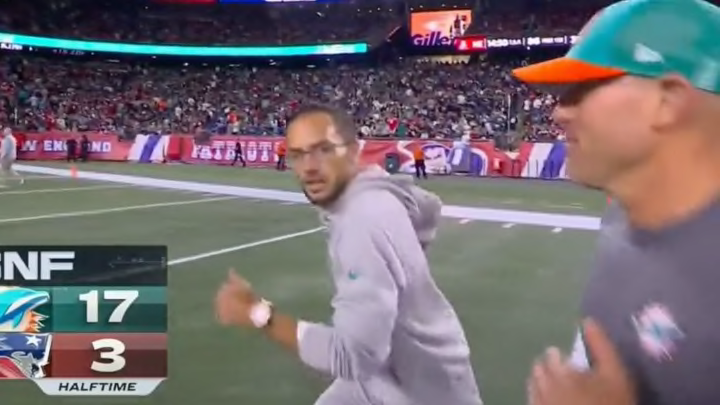 The Miami Dolphins took a 17-3 lead into halftime against the New England Patriots on Sunday Night Football. Tua Tagovailoa used his Judo skills to complete 15-of-20 pass attempts for 181 yards and a touchdown, while the defense held the Patriots to just 3.6 yards per play in the half. Because things were going so well, Dolphins coach Mike McDaniel was interviewed by NBC's Melissa Stark before he headed to the locker room. Once the interview was over McDaniel took off in a sprint, looking back at the camera a couple times to indicate he was messing around.
While most of the interview was full of coach speak, McDaniel did joke about how he hadn't done anything to start the interview.
With Miami continuing to play well under McDaniel, he's been able to remain an interesting personality, which is a great relief because most coaches are really boring. And the ones that are funny to most people are mostly just funny because they are so damn boring. McDaniel continues to come off as a smartass -- in a good way.
It's a nice change of pace. Kind of like sprinting to the locker room after you outcoach Bill Belichick on national television.