'Get Up' Was a Mess in the Wake of Aaron Rodgers' Injury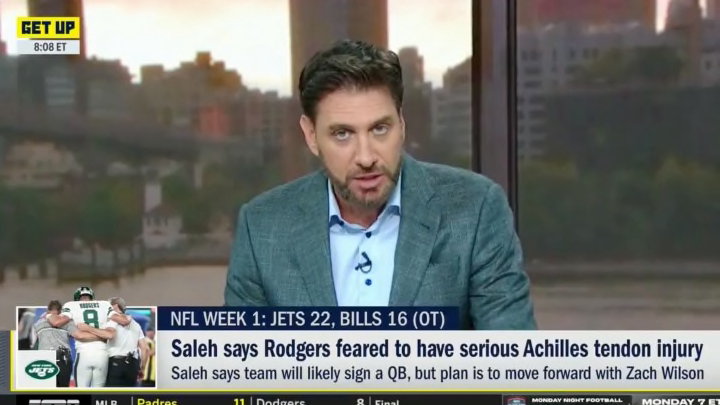 Aaron Rodgers was injured four plays into his New York Jets career and was potentially lost for the season, but that's not the team taking this news the hardest. The Get Up crew was in shambles on Tuesday morning, taking their queues from their leader, Mike Greenberg. A lifelong Jets fan who was as excited about this season as anyone else on the planet, Greenberg was devastated and still trying to process what he had just seen happen on his television.
The Get Up host could not even make it through his usual intro with his silly host voice.
"Alright. I can't do this. I just can't. Cindy, stop it. Kill the music. Kill the graphics. Kill the video. I can't pretend this is alright. I cannot pretend this is a normal morning. I cannot do the big voice. I cannot pretend the energy is here."
Greenberg wore his heart on his sleeve, even if he didn't have a full grasp of how he was feeling yet. All he knew was that it was bad and he was going to feel bad. But it was still amusing watching him deal with this truth while trying desperately not to be over the top considering the date on which it happened.
The camera then cut to Damien Woody, who tore his own Achilles tendon with the Jets during New York's Wild Card victory over the Indianapolis Colts on January 8, 2011. That injury ended Woody's career two weeks before they played in the AFC Championship Game.
Later in the show Robert Griffin III kind of floated himself as a possible signing for the Jets if Rodgers was indeed lost for the season. The 33-year old has been out of football since the 2020 season, but revealed that over the summer a GM told him, "Hey, man, I know you can still play. You look like you can still play, but if we bring you in its going to be a distraction for our starting quarterback."
RGIII named himself, Carson Wentz, Cam Newton and Colin Kaepernick as quarterbacks who can still play, but would be considered too big of a distraction for a team. Though it seems none of them could be as big a distraction as Aaron Rodgers was to Get Up this morning.