Mike Greenberg Gets Hot And Sweaty on 'Get Up' Over Aaron Rodgers-Sean Payton Beef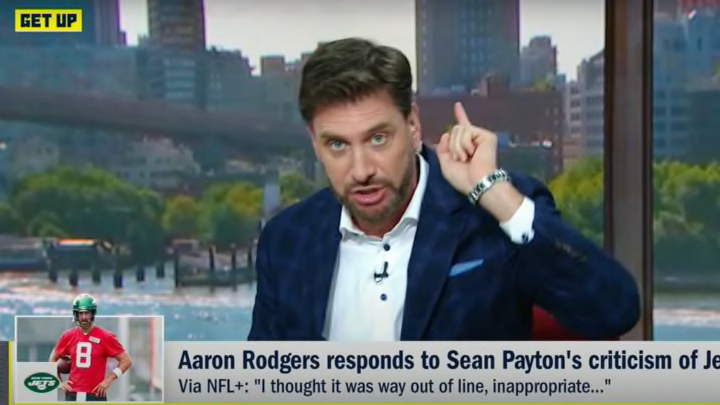 Mike Greenberg /
Sean Payton kicked the hornet's nest last week by aggressively calling out Nathaniel Hackett for basically no reason and only sort of backtracked, saying he should not have said those things because he's a coach and not an analyst anymore. Even if you squint that's not a real apology and Aaron Rodgers wasted little time in firing back at Payton in defense of his offensive coordinator. The Denver Broncos and New York Jets never had beef before but they sure do now.
Mike Greenberg is loving every single minute of this experience. He's reveling in it, and is encouraged to do so as enthusiastically as possible by his Get Up crew. So it was only natural on Monday that Greenie got all hot and bothered about his new QB standing up for his coach, celebrating the fact that everyone isn't laughing at the Jets because Rodgers can back up what he's saying on the field of play.
Listen, the bit will eventually get old but for now it's fun because the sheer amazement in Greenberg's voice remains earnest. He is not playing this up for television. He truly cannot believe he is watching the Jets do things like this. It's the sort of childlike wonder sports helps grown men capture and it is wonderful to watch in real time.
Greenie's tune is definitely going to change if / when the Jets are 3-3 and Rodgers is sniping at the media, but let the man have his fun for now. Even if he gets a little sweaty and the YouTube intern gets a little weird with the caption.