Aaron Rodgers Injured Just Four Snaps Into New York Jets Career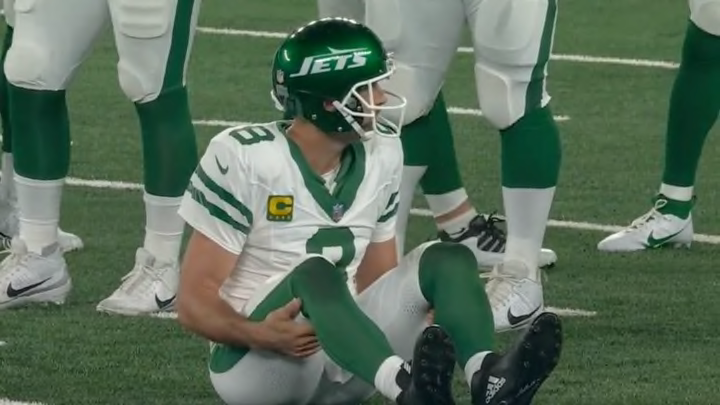 Aaron Rodgers made his New York Jets debut on Monday Night Football. The NFL's Week 1 ended with Rodgers carrying the American flag onto the field on the 22nd anniversary of 9/11. And just a few minutes later Rodgers was taking a cart from the sideline back to the locker room.
UPDATE: Aaron Rodgers has been ruled out of the game before halftime. X-rays on his ankle were negative.
On the Jets' first possession of the season, Rodgers was put under immediate pressure by the Bills' pass rush. On the fourth play from scrimmage Rodgers dropped back and was sacked by Buffalo's Leonard Floyd. Rodgers limped after he got up, went back to the huddle and sat down. Rodgers would be helped to the sideline and after an initial investigation, he got on a medical cart to head towards the locker room.
The broadcast informed viewers that it was an ankle injury and Rodgers' return was questionable. Zach Wilson took over for the four-time MVP and we're sure Jets fans are just thrilled about that.
UPDATE: Over on the ManningCast, Peyton Manning said that he had nothing prepared if Aaron Rodgers was out. Watch the ManningCast reaction here.