NFL Says Officials and Mike Evans Simply Trying to Coordinate Golf Lessons So Don't Worry About It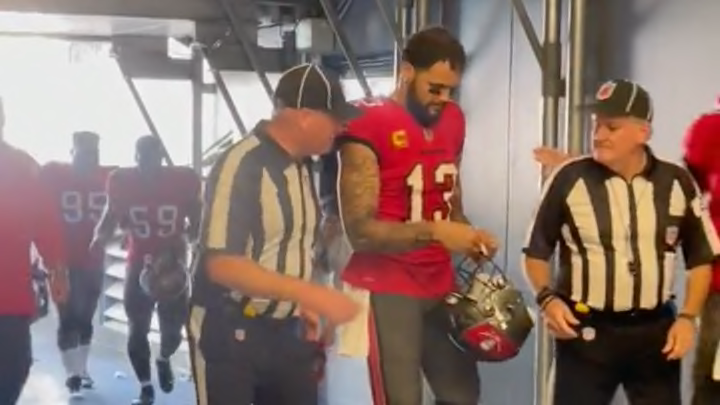 The NFL had yet another controversy on their hands this week as video emerged of officials interacting with Tampa Bay Buccaneers wide receiver Mike Evans in the tunnel following a game on Sunday. Side judge Jeff Lamberth and line judge Tripp Sutter approached Evans after the Panthers beat the Bucs, 21-3, and handed him pen and paper. Evans appeared to write something that people assumed was an autograph, which is against the rules, no matter which team won the game.
The NFL launched a full investigation into the matter after the clip went viral and, in what must be a great relief to everyone, have determined that there was nothing nefarious afoot. Evans was simply giving his phone number to Lamberth so the official could help the player get in contact with a golf pro for some lessons.
Lamberth has been an official in the NFL since 2002 when Evans was nine-years old. However, they both went to Texas A&M and everyone knows that when a fellow alum needs help with his golf game you gig 'em as much help as you can. It's what the Midnight Yell Leaders would want.
The officials have been reminded about "avoiding even the appearance of impropriety" according to a statement from the NFL. As for the Buccaneers, they should be thrilled that this is where Evans' focus was on Sunday after he dropped one of the easiest passes of his life and his team failed to score a single touchdown in a loss to a team playing their third string quarterback. At this rate it won't be long until the rest of the guys in the locker room are lining up golf lessons. They'll have plenty of time on their hands in about two months.