NFL Officials Help Buccaneers Lose 21-3 In Exchange for Mike Evans Autograph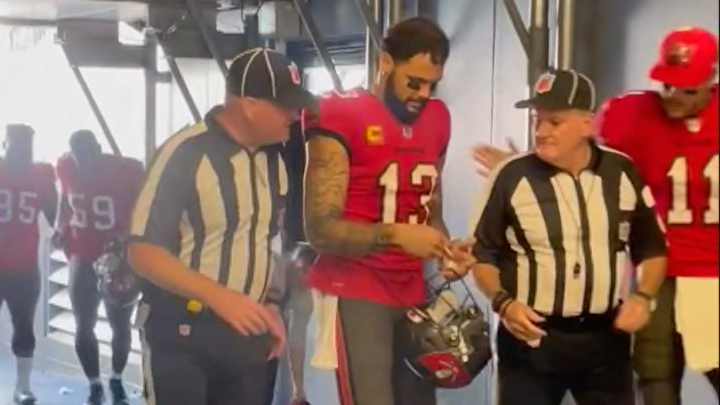 The Tampa Bay Buccaneers look broken and 45-year-old Tom Brady may finally be safely counted out. They are now 3-4 after losing as two-touchdown favorites to the lowly Carolina Panthers and former XFL star P.J. Walker by the final score of 21-3. Three points in an NFL game. In this economy!
But think about how bad it would have been if the officials hadn't exchanged a sweetheart whistle for a Mike Evans autograph. It could have been 21-0.
Of course, people are assuming it's an autograph and not some unrelated paperwork. It could have been a game of MASH. Or Hangman.
Now, one can understand why officials should not be seeking out autographs from the players they officiate. There are rules and codes and standards of professional conduct that govern such stuff. And they are based largely on optics because it looks really bad and one can make the argument that optics are even more important than reality at this point.
For his part, Evans did not look particularly aggrieved to do whatever he was being asked to do. And perhaps some grandkids will cherish the gift forever. Who could know?
What we do know is that the Buccaneers' offense was whistled for four penalties while the Panthers' defense was not penalized the entire game. So if there was some dastardly, nefarious plan, everyone involved did a tremendous job of not making it obvious. Perhaps too good of a job.
It's obviously not a great video but we have some solid evidence that the thing everyone fears in this type of situation did not happen. That may be enough to stop the outrage machine.
Just kidding.