Michigan Fans Want to Boycott 'College GameDay' This Weekend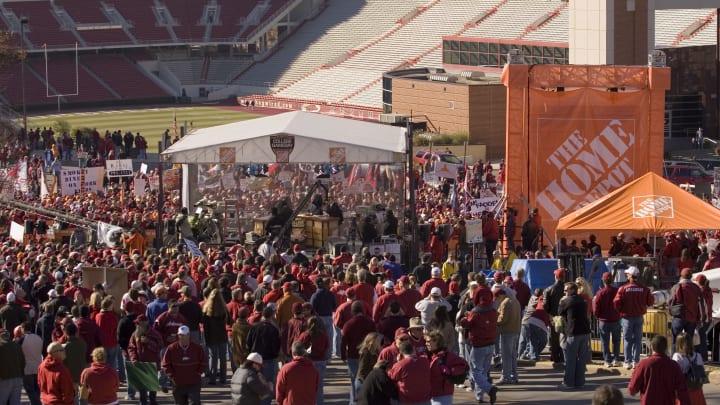 Wesley Hitt/GettyImages
The entire college football world will descend on Ann Arbor this weekend as No. 2-ranked Ohio State battles No. 3 Michigan. The winner will go to the Big Ten Championship game and keep their national title hopes alive. This is the best rivalry in the sport featuring two unbeatens so it's sexy as hell before you even consider all the sign-stealing drama and finger-pointing between the two fanbases. It's a no brainer, then, that both Big Noon Kickoff and College GameDay will be on site to get everyone ridiculously hyped.
An interesting studio in media tribalism is emerging, though, as there's an honest-to-goodness movement afoot among Wolverines fans to boycott the ESPN show.
Coverage of the Jim Harbaugh-Connor Stalions saga has differed by network. FOX has been incredibly supportive of the university through the whole thing. ESPN's Pete Thamel has been at the forefront of much of the reporting while Paul Finebaum has drawn a hard line. It's entirely expected that there'd be some fractures in the public trust but it's also worth pointing out that there are several voices on ESPN who have been softer than Finebaum. Including Desmond Howard, the Michigan Man on GameDay.
It's really tough to know how widespread and effective this so-called boycott will be. Odds are it's just a tremendous amount of blustering. It seems more likely that the sign-auditing department are just going to be extra vigilant in making sure no anti-network messaging makes it on television. Because we're expecting the scene to be just as raucous as usual — even if there's a bit of a chill in the air.