Michael Irvin's Phone Rang During 'Undisputed,' But He Wouldn't Tell Skip and Keyshawn Who It Was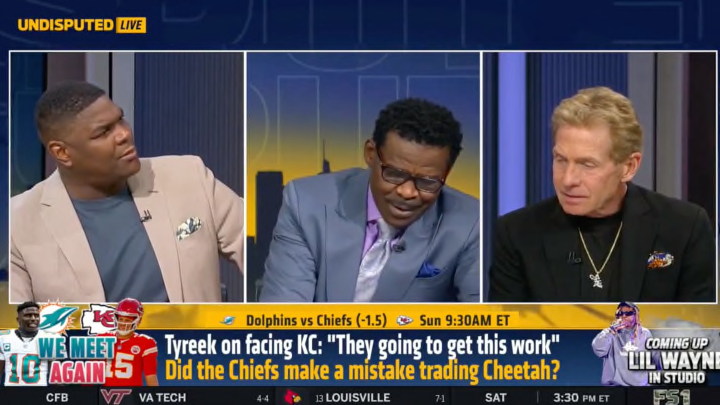 With the football season in full swing all of the reshaped and reorganized debate shows have settled into their new grooves. On Friday morning Keyshawn Johnson and Michael Irvin joined Skip Bayless on Undisputed to - just a guess - mostly talk about the NFL. During a segment on the upcoming game between the Miami Dolphins and Kansas City Chiefs, Irvin's phone rang.
The question on your mind, my mind and Skip and Keyshawn's minds was all the same: Who is calling Michael Irvin while he's on live television? Surely anyone important to Irvin would know that he's on FS1. He didn't react like it was an emergency and he also didn't look like it was one of those annoying spam calls asking him about his car's warranty
The thing is, Irvin should have answered. His predecessor on Undisputed, Shannon Sharpe, famously called Julio Jones during a broadcast back in 2021 and put him on speaker phone. Irvin would have been well within his rights to do the same as the one being called at work. And it's not just an FS1 thing. Adrian Wojnarowski took a call on ESPN back in 2020.
If anything, we need more people talking on the phone during sports debate shows. They should be used like lifelines on Who Wants to Be a Millionaire. If you find yourself losing a shouting match to Skip or Stephen A. Smith, just pick up your phone and let someone else pinch take. So come one. Spice things up a little. Take the call.