Michael Irvin: Brock Purdy Has Tom Brady Vibes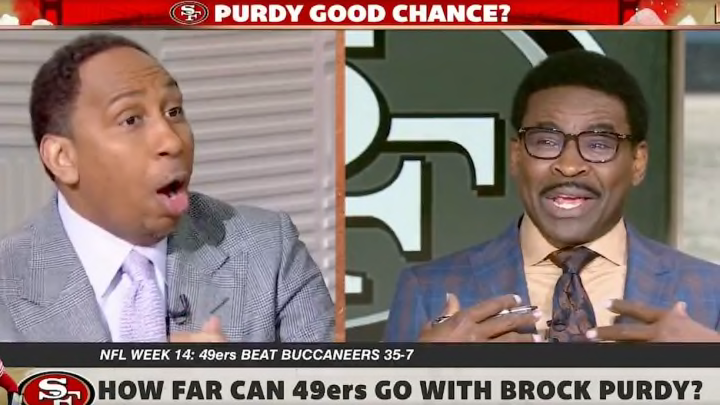 The San Franicsco 49ers beat the Tampa Bay Buccaneers on Sunday, 35-7. Rookie Brock Purdy, the last pick in the 2022 NFL Draft and the Niners' third-string practice squad quarterback coming into the season, completed 16-of-21 passes for 185 yards and two touchdowns. And now Michael Irvin says Purdy has "Tom Brady vibes."
Now, if Irvin means that Purdy is a young, inexperienced quarterback who doesn't need to do much for his team to succeed, like Tom Brady was when he took over for Drew Bledsoe in 2001, then yes. If he means he's the guy throwing bombs and leading one of the best offenses ever like Brady in 2007, well, he needs to relax. Brady averaged 189 yards per game and threw just 18 regular season touchdown passes in 2001 as the Patriots went 11-5 and won the Super Bowl. Brady threw one touchdown pass in three postseason games that year. Brock Purdy is certainly capable of those vibes no matter how good or bad he is.
Whatever. We'll hear plenty more about this in the coming weeks. So let's focus on the rest of the clip.
Michael Irvin is asked a question and gets shouted at by Stephen A. Smith while he's answering. The two proceed to yell back and forth about whether it's OK for Irvin to say a team besides the Cowboys simply has the potential to win a Super Bowl. Smith says no.
Then there's Dan Orlovsky clearly having the time of his life just watching two great sports shouters cook. Meanwhile, Sports Media Awards nominee for Best Host, Molly Qerim, just sits there, blocking out the noise, preparing the next shouting prompt like a professional.
What an industry.