Mat Ishbia Brought Former Colorado and Current Michigan State Football Coach Mel Tucker to Game 5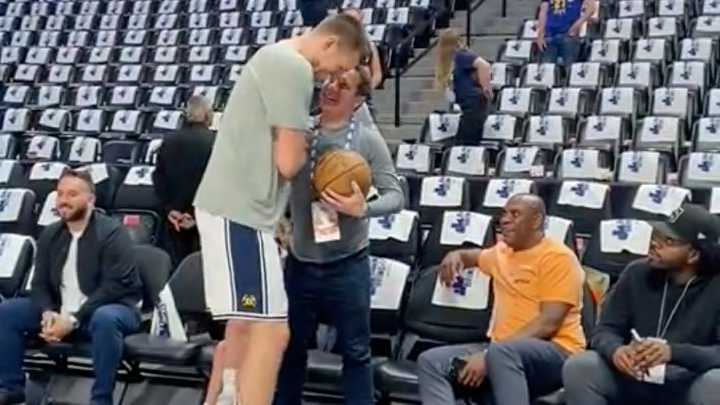 Matt Ishbia greets Nikola Jokic as Mel Tucker looks on. /
Mat Ishbia, owner of the Phoenix Suns, was able to obtain courtside seats for Game 5 of the Western Conference semifinals in Denver. Ishbia was involved in a bit of an incident with Denver Nuggets star Nikola Jokic during Game 4 in Phoenix. After Jokic finished his pregame warmup, he walked by Ishbia and tossed him the ball and then they shook hands. It was a nice little moment, but it's what Ishbia didn't say in that moment that will speak loudest with the Denver crowd tonight.
The guy in the orange shirt with Ishbia is Michigan State head football coach Mel Tucker. Back in 2019 he went 5-7 in one season as head coach of the Colorado Buffaloes. That was all the Spartans needed to see so they more than doubled his salary to bring him to East Lansing and then made him the highest paid coach in the Big Ten a year later. Tucker spent his final hours at Colorado lying to boosters about how committed he was to the school. Via Sports Illustrated:
While working toward a deal Tuesday night to become Michigan State's head coach, Tucker spoke to more than two dozen Colorado boosters and fans at a fundraising event at the Denver Country Club, soliciting their donations while expressing his commitment to the program. Sipping on his trademark Scotch and water, Tucker paraded through a reception of big-money Buff Club members in a plush, window-lined room, eventually delivering a speech and taking questions. He spoke about his passion for Colorado, described his reasons for accepting the job 14 months before and expressed excitement in the future, built around the high school players he had signed a week ago.
So basically, Ishbia has brought one of the most hated figures in Colorado sports to the game as his special guest tonight.
Sure seems like he's trolling considering he could just as easily invite Tucker to Game 6, but then again, you never know with Ishbia. He certainly wasn't trying to keep the ball from Jokic so it probably didn't even occur to him that Tucker used to coach in Colorado. This is a man who lives in the moment.