Luka Doncic Had to Shake Off Bottle Flip Failure to Refocus in Overtime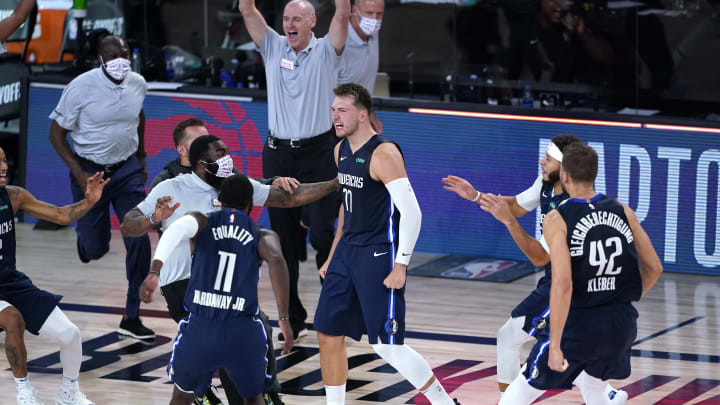 Luka makes people go crazy. / Pool/Getty Images
Luka Doncic is officially a legend after his performance on Sunday against the Los Angeles Clippers. The Dallas Mavericks may lose the series, but Luka has put his stamp on the 2020 NBA Playoffs. And as focused and locked in as he needed to be to finish that game, he spent the moments before overtime lost in his own world trying to land a bottle flip while ignoring everything else in the huddle.
Some people might look at this and say he's still just a kid. Others might use this as an example of his being in complete control. Cool under pressure. Unable to be distracted.
I just think it's a guy trying to kill time at work. Look at everyone else, milling around awkwardly. Making small talk. They wish they had a chair to sit in and a water bottle to flip.
So Luka successfully waited for his break to end and then he went out and won the game. You have to wonder if the bottle flip actually hurt him. He went scoreless for the first four minutes of overtime, missing both shots he took. Was he still thinking about his inability to land the bottle flip? Only Luka knows the truth, but whatever was happening in his mind, he shook it off just in time.
With 50 seconds remaining he tied the game. With 19 seconds remaining he put the Mavericks ahead. When the buzzer sounded he won it. An absolute masterclass in attacking the basket and then getting yourself open. It's a dream sequence for anyone who has ever played basketball and it capped a legendary game.
For Luka, it was just Sunday. This is what he does. Way back in November, when the world was normal and the season was young, I compared Luka's stats to the greatest players of all-time and he looked like he was already one of them. As far as second seasons went, he was already outscoring, out-rebounding and out-assisting the best players ever. Even though those numbers dropped a bit over the course of his 61-game season, they still stand up as incredible compared to Michael Jordan, Magic Johnson, Larry Bird, Jerry West, and LeBron James.
Luka's performance on Sunday was even better than all that. Especially on a sprained ankle. And as incredible as it was, it was almost kind of what we have grown to expect. The only thing left to do is win a lot of games and land that bottle flip.