Luka Doncic Found One Narrative Arc, Another Found Him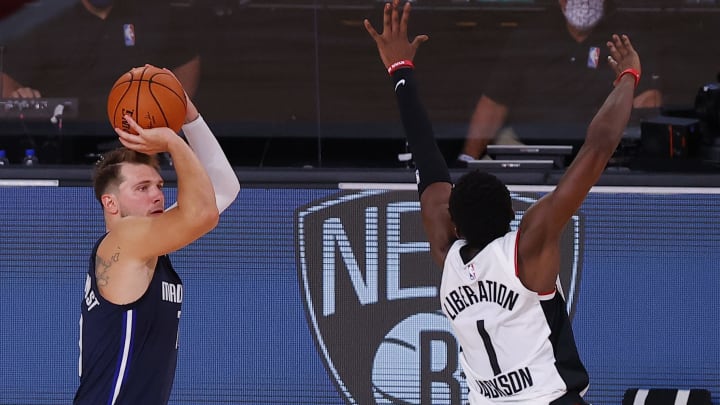 Kevin C. Cox/Getty Images
The NBA is a serialized novel, twisting and turning in mostly predictable dynastic ways with enough surprises sprinkled in (last year's Raptors, the Jeremy Lin thing, T.J. Warren treating The Bubble as his own personal Flubber) to keep readers interested and thumbing through pages. Luka Dončić has yet to be the main protagonist, though it's been clear to anyone not relying on Cliff Notes that he was always destined for centerstage in later chapters. That inevitable thrust to the forefront has been propelled by rocket fuel over the past few days, resulting in a speeding-up of the timetable.
Dončić, for all his objective brilliance, has been waiting for his defining moment through two years in the league. A narrative to be painted around him because, despite ascending to become a top-three talent in the league, the real star-making begins when the storytelling starts. The 21-year-old Slovenian helped write the upslope of his arc Sunday evening. As his game-winning three-pointer floated through the air, time stood still for a brief second, then caught up all at once with feverish pace.
Barely old enough to drink in his quarantine room, Dončić has what some players search for years and potentially decades to find. A defining moment.
It's not that he tied a first-round series at two games apiece. It's that he did it in the most uncertain of circumstances. He did it after losing Game 3 and injuring his ankle in the process. After limping off, trotting back on, and then shuffling off again, not able to physically compete. He did it after coming into Game 4 as a game-time decision.
Numbers and eye test can combine to tell much of the story. But in order to truly resonate with people, a tale needs to affect them emotionally. The hero needs to be humanized, to show flaws, cut and bleed. Dončić was battered and momentarily broken, which allowed for the trite but so reliable comeback saga that's moved a billion paperbacks.
That's the narrative arc he helped find. The one that found him is a bit more complicated.
Dončić, poised to become the face of a league that's primarily black, had his whiteness magnified by Montrezl Harrell in the form of race-based trash talk. The Clippers big man was entirely out of line for calling Dončić a "bitch-ass white boy," something for which he's since apologized. Though both Harrell and Dončić seem content to move on with things smoothed over, the event has served as catnip for those who want to rail around double standards and bemoan the injustice of reverse racism.
The man who has been favorably and accurately compared to Larry Legend will see his own legend grow if the Mavericks can knock off the title-hopeful Clippers. And grow even more if they reach the Western Conference Finals. Dare I say advance beyond? Such an event horizon does not ring as impossible.
Like it was for Bird, Dončić's race will be subtext. A certain faction will want to use it as the actual text. That his reaching the mountaintop is dovetailing with the league's apex of willingness to tackle weighty social issues almost guarantees that we won't be hearing cynical and well-meaning conversations about it for a long time.
If there were any casual fans walking the Earth unaware of what Dončić's place in the basketball universe would be for the next decade-plus, they now know. They can choose their own adventure when it comes to the immediate plot of his postseason the precipice of early, I'll-take-what-I-damn-please-when-I-damn-please greatness. But no matter the reason why they're reading, they can't put the book down.
Things just got very interesting. Dončić's back-breaker has created a page-turner.