Longest Home Runs in Home Run Derby History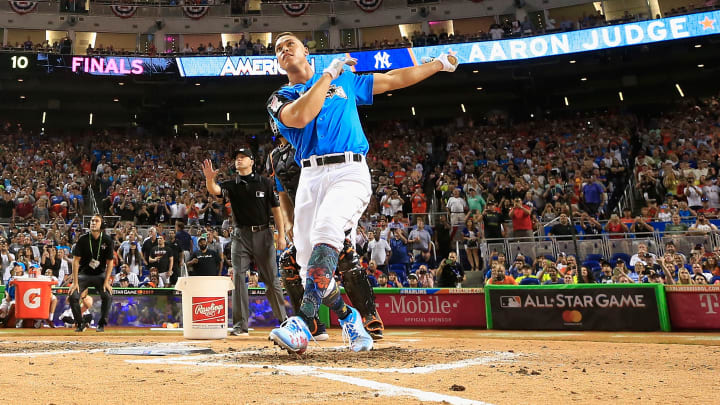 Aaron Judge / Mike Ehrmann/GettyImages
Everybody's favorite part of MLB All-Star Weekend is the Home Run Derby. Anyone who says otherwise is just lying or really, really loves the Celebrity Softball Game. No sports fan on the planet doesn't enjoy sitting back and seeing some of the best hitters in baseball get dozens of swings at the easiest pitches they'll see all year specifically for the purpose of hitting those pitches as far as they possibly can. It is simple. It is glorious. It is a lot of fun.
On Monday, July 18, this year's event will take place in Los Angeles at Dodger Stadium. We'd like to remember some of the longest home runs in Derby history to get excited. Before we get to that, though, it must be noted that Statcast started to be used during the Home Run Derby in 2016, so the numbers before that are a bit shaky.
But who cares? Everybody loves a sick dinger. Here are the longest home runs in Home Run Derby history.
Find all MLB tickets at our trusted ticket partner TicketSmarter.com today.
Sammy Sosa, 2002-- 524 Feet
Sammy Sosa at the height of his powers, taking cut after cut at fastballs down the middle? Yeah, it was inevitable he'd be on this list. Sosa's 2002 Home Run Derby performance is legendary and perhaps even more so because he ended up losing to Jason Giambi. Sosa's pièce de résistance in Milwaukee that year was a bomb that literally left the building and ESPN measured it at 524 feet.
Juan Soto, 2021-- 520 Feet
Juan Soto was one of several Derby participants to hit at least one 500-foot bomb during last year's event at Coors Field. The thin Colorado air tends to help matters, as you may have heard. Regardless of circumstance, Soto smashed this ball into the atmosphere, and as a result he currently holds the record for the longest home run during the Home Run Derby as measured by Statcast.
Josh Hamilton, 2008-- 518 Feet
This was way back when Josh Hamilton first burst onto the scene and he made a huge splash at All-Star Weekend in 2008 at Yankee Stadium. He bashed a 518-foot homer off the back wall of the bleacher seats en route to a 28-homer first round, during which he hit 13 straight dingers.
Trevor Story, 2021-- 518 Feet
Like Soto above, Trevor Story took advantage of his then-home field and crushed numerous baseballs into the left field stands. The longest came close to hitting the concourse. The crowd went wild.
Bobby Abreu, 2005-- 517 Feet
Perhaps not the name you were expecting to see, eh? But those who get it know that Bobby Abreu's performance in the Derby at Comerica Park was legendary. After Abreu was finished, he was the sole record holder for most home runs in a round and most home runs in one Derby. Those records have since been broken again, but Abreu's 517-foot shot to the second level in right field will live on our memories.
Aaron Judge, 2017-- 513 Feet
Arguably the single most impressive homer of the Statcast era, Aaron Judge was in the midst of his breakout season when he decided to participate in the Home Run Derby down in Miami-- to the great delight of baseball fans everywhere. Without the benefit of high altitude, Judge crushed multiple 500-foot dingers en route to a Home Run Derby victory, capped off by this 513-foot home run.