Latest NFL Leads
The Chiefs Putting Jordan Love's Girlfriend and Mom in the Very Top Row is So Funny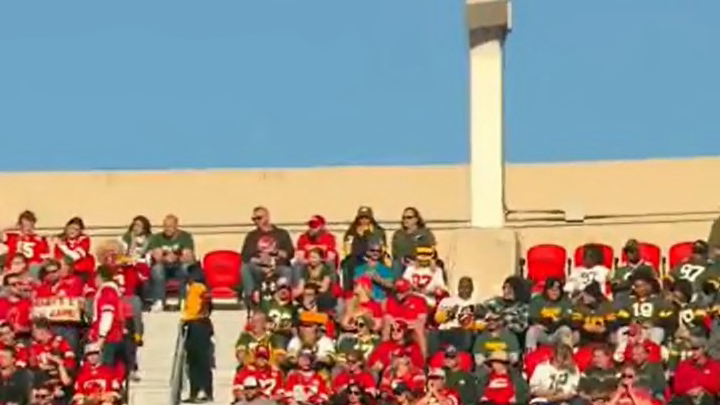 Jordan Love was pressed into duty because Aaron Rodgers is friends with Joe Rogan. The Utah State product's first career start was entirely unproductive as the Green Bay Packers failed to capitalize on an opportunity to beat a glitchy version of Patrick Mahomes and the Kansas City Chiefs. Love struggled to a 19-for-34 performance with 190 yards, a touchdown and an interception while posting a not-so-nice 69.5 passer rating.
Aesthetically, the game was lacking for Green Bay fans and neutral observers alike as the lack of offense grew boring. The entire experience was saved, though, with one of the funniest moments of this — or any — NFL season when Fox cameras panned to the rookie quarterback's mother, Anna, and girlfriend, Ronika Stone, in the stands.
Like, all the way up in the stands.
Erin Andrews informed us all that these are the away team's appointed seats, which only makes it better. This means there was a series of meetings in which Chiefs brass decided to be petty enough to put loved ones halfway between the moon and Kansas City. Not just any nosebleed seat exposed to the elements and requiring a telescopic lens to make out players would do. No, only the very top row will do.
And folks, we're glad they landed on the location. We went to bed thinking about how humorous the sight gag was and woke up appreciating it even more. There was some internal discussion whether it would have been funnier if Love's loved ones had been in the second- or third row from the top but the Chiefs know what they are doing. Putting them in the very top row is better. Two things the franchise knows: stadium noise and punitive measures against friends and family.
It doesn't feel like a hot take to argue that those seats are better than the slightly lower rows. It appears there's a built-in backrest and the facade would block any wind or sun. A person could get on their tippy toes and survey the view. There may be more room in which to stretch out.
Green Bay's next game is against Seattle at Lambeau. His family should have better seats. And if they don't, well, that will be an indication the franchise's quarterback situation is even more unsettled.