Latest NFL Leads
Aaron Rodgers on Pat McAfee: Thanks Joe Rogan, Questions Vaccines, Complains About Cancel Culture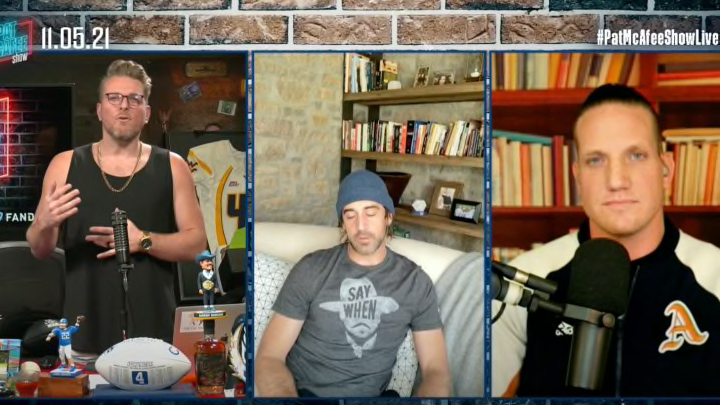 Aaron Rodgers appeared on the Friday episode of the Pat McAfee Show where he was given a platform to address his choice to not get vaccinated. Rodgers spoke for quite a while, explaining everything he went through to fight the NFL's vaccine mandate while making many references to a witch hunt by the woke cancel culture mob.
Rodgers denied lying when he said, "Yeah, I'm immunized," in response to being asked if he was vaccinated. He said that if someone had asked a follow-up question he would have explained much of what he told McAfee and his audience.
Rodgers said that he consulted with Joe Rogan on treatment and that he was also worried about the vaccines causing sterility because he wanted to have children.
Rodgers also said that he had an allergy to something in the Moderna and Pfizer vaccines and wasn't going to take the Johnson & Johnson vaccine because of adverse effects. The league denied his request for an exemption and Rodgers said he had 500 pages of research collected for his appeal. Rodgers also claimed that one of the doctors involved in the appeals process said it was impossible for a vaccinated person to get or spread COVID.
UPDATE: This post has been updated with more quotes and videos from Rodgers' interview.