Jamie Erdahl Tells FAU's Johnell Davis Not to Worry About Swearing Because 'We're on TruTV'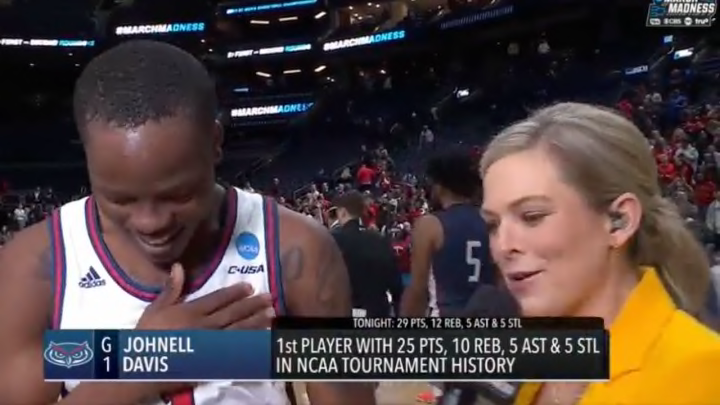 Florida Atlantic beat Fairleigh Dickinson, 78-70, in the second round of the NCAA Tournament. With the win FAU heads to the Sweet 16 for the first time in the school's history, and also became just the second team in history to beat a 16-seed in the second round. After the game Jamie Erdahl interviewed Johnell Davis who had a tremendous game, scoring 29 points on 16 field goal attempts to go along with 12 rebounds, 5 assists and 5 steals.
Asked if he had anything to prove, Davis said, "I've been trying to prove this shit since day one." Davis immediately realized what he did and tried to apologize, but Erdahl was ready saying, "That's alright. It's alright. It happens to all of us. We're on TruTV, man!"
Just a class reaction from Erdahl, as well as hilarious. There are no children watching TruTV the other 361 days of the year so don't worry about it. Their parents knew what they were getting into. Chalk it up to an impractical joke and move on.