Jim Harbaugh Rumors Aren't an Accident, They're an Annual Tradition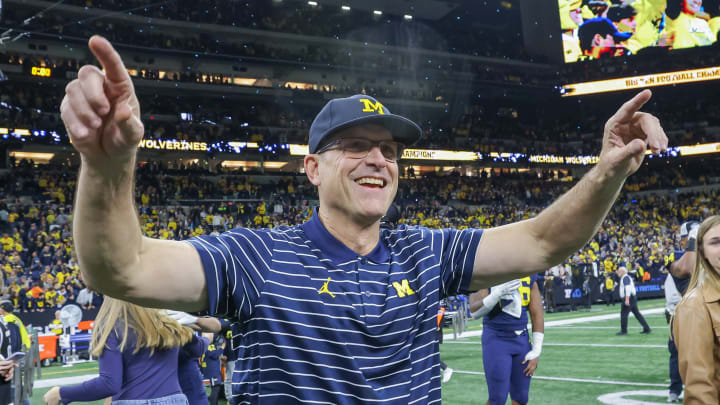 Big Ten Championship - Purdue v Michigan / Michael Hickey/GettyImages
Jim Harbaugh is back in the news. Have you seen this? Have you heard about this? The Michigan Man is rumored to be considering coaching elsewhere next season as long as you ignore what he himself said yesterday. Multiple NFL teams are "doing homework" on Harbaugh as we speak! Bob Kravitz of The Athletic is the most recent person to suggest a new home for the coach following the Indianapolis Colts' embarrassing loss to the Dallas Cowboys on Sunday night. NFL Network's Gregg Rosenthal suggested that articles like this a no accident. And he's right. They're a tradition.
Last year Bruce Feldman reported that the Las Vegas Raiders job was Harbaugh's if he wanted it. Harbaugh also interviewed with the Minnesota Vikings. He, of course, returned to take Michigan to their second straight College Football Playoff. And beat Ohio State again.
Here's Cris Carter saying Harbaugh might be the Green Bay Packers' next coach because he wanted out of Michigan back in 2018. This was on First Things First exactly four years ago today.
Harbaugh would shut that down a few days later.
"This is a choreographed message that comes up at this time every year before signing day," Harbaugh told ESPN this weekend. "It's people spreading messages to further their own personal agenda.

"But I'm on record right here, right now: I'm not going anywhere. I'm staying at Michigan. We have big plans here, and there's a lot we want to accomplish."
And yet a report hit Pro Football Talk just a few weeks later that the Jets were going to make a run at Harbaugh. If you want to go back even further, there was a brief moment where Harbaugh was connected to the Los Angeles Rams because of an off-air comment made by Albert Breer to Colin Cowherd. This was six years ago. Harbaugh had been with Michigan for two seasons at that point.
Harbaugh is still at Michigan. And he will remain there until he doesn't. So far he's stuck to his word and anyone spreading rumors for whatever reason is nothing more gobble gobble turkey from jive turkey gobblers.