Paul Finebaum Slams Jim Harbaugh's Michigan Extension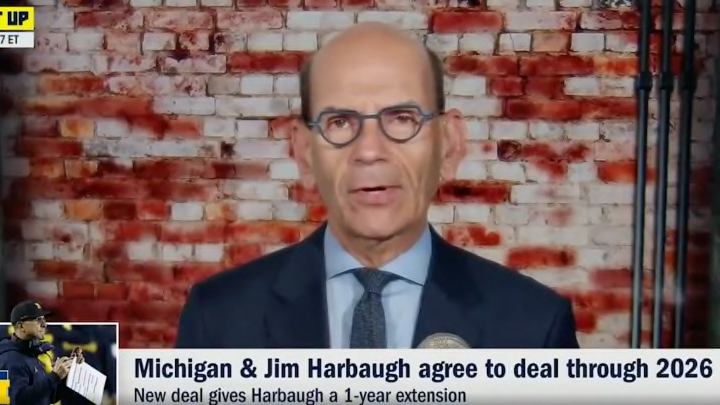 Paul Finebaum /
Michigan welcomed Jim Harbaugh back with open arms after his brief dalliance with an NFL return, and why wouldn't they? He had just led the Wolverines to the College Football Playoff for the first time, beating Ohio State in the process. Michigan was pretty clearly outmatched by the eventual national champions Georgia in the CFP but just being there is becoming more and more of an accomplishment for any non-SEC or non-Clemson team.
It was not great that Harbaugh went to interview for the Minnesota Vikings job on National Signing Day, but Michigan really only cares that he came back. Harbaugh was subsequently rewarded with a new contract that the school announced yesterday.
Paul Finebaum appeared on Get Up this morning and hammered Michigan for giving Harbaugh a new deal when it was crystal-clear that the coach was not that dedicated to the school. Finebaum went so far as to call it preposterous.
There are some points in there. There were still three years left on Harbaugh's old deal so Michigan didn't need to renegotiate and add on an extra year like they did. They chose to because Harbaugh agreed to a paycut after the 2020 season and turned the team around in 2021, so they gave him a $2 million annual raise. All other things equal, that makes sense, but from Finebaum's perspective they gave him a raise even though he had one foot out the door during recruiting season.
But Harbaugh is far from the first football coach to get that close to leaving a job before deciding to return to his old posting and he will not be the last. It isn't a sign that he will leave the school at the first available opportunity. This extension gives him a raise on par with the performance his team put forth last year and adds another year to his deal. That's not that much!
Harbaugh, like most coaches, might leave before his contract is up. It could even be next year. Finebaum appears to think that qualifies him as a flight risk and hammered Michigan for rewarding that, when in reality it's just how things are.