Footprints Visible in New York Jets End Zone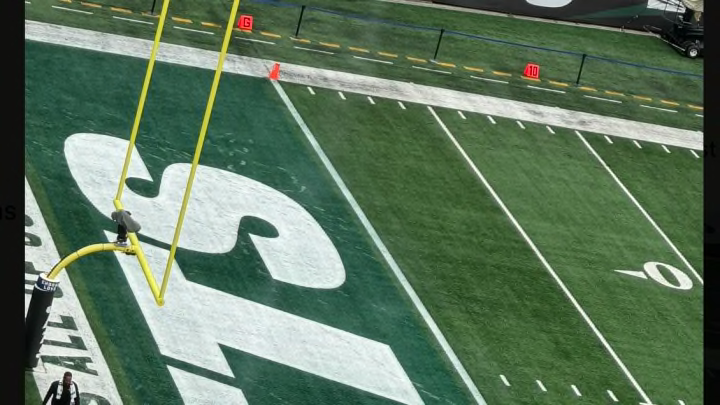 Jets End Zone /
The New York Jets are hosting the New England Patriots at Metlife Stadium in East Rutherford today. The home side is obviously at a disadvantage as they enter the contest starting Zach Wilson, who was supposed to be the second-string QB all year, after losing Aaron Rodgers in the opening snaps of the year. Wilson managed to lead the team to a win in Week 1 but got shellacked in Week 2 by the fierce Dallas Cowboys defense. The Patriots, meanwhile, are trying to avoid going 0-3 after two close losses to open the season.
There's a lot at stake for both of these playoff hopefuls. The seriousness of the matchup cannot be conveyed by the end zone paint, however. Patriots beat writer Zack Cox from NESN tweeted out a pregame picture of footprints in the Jets' end zone, presumably left over by the person who painted the logo who somehow got paint all over their shoes and didn't realize it.
However, a later photo from Cox suggests the paint is actually wet. After some warmups even more footprints were scattered across the end zone.
It was pointed out by several users that those footprints will be the only ones found in the end zone today, which may very well end up being the case. Both New England and New York's defense are tremendous unit going up against supbar offenses. An offensive explosion should not be expected.
Much like when a fan drove all over the Cleveland Browns' field last year, sometimes art reflects life. The Jets are down so bad in 2023 that they can't even paint their own end zones correctly. A tough scene.