Jerry Jones Introduced DeMarcus Ware as 'DeMarcus Lawrence' During Ring of Honor Ceremony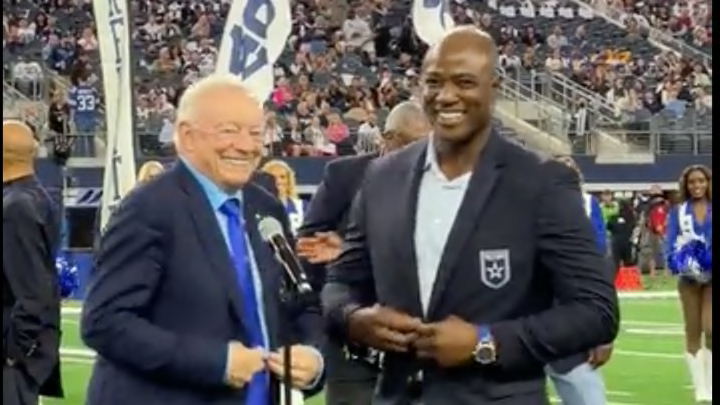 DeMarcus Ware was inducted into the Dallas Cowboys Ring of Honor on Sunday, but team owner Jerry Jones first introduced Ware as "DeMarcus Lawrence," who is a current member of the Cowboys. Luckily, Ware was there to correct Jerry.
Ware was taken by the Cowboys with the 11th pick in the 2005 NFL Draft out of Auburn. He played nine seasons in Dallas, twice leading the NFL in sacks. Ware made the Pro Bowl seven times with Dallas before moving to Denver for his final three seasons where he made two more Pro Bowls and won a Super Bowl with Peyton Manning.
On the sliding scale of Jerry Jones moments, this one probably barely rates. Mixing up your star defensive lineman named DeMarcus is pretty harmless and probably forgettable compared to a weird quote during a radio call in or conducting a draft from a super yacht. We'll just have to wait and see if Ware sticks around long enough to earn a spot in the Ring of Honor. If Jerry calls him Micah Parsons during his induction ceremony then we'll have a serious pattern.