Isaiah Simmons Knocked Geno Smith Out of Game With Dirty Tackle Out of Bounds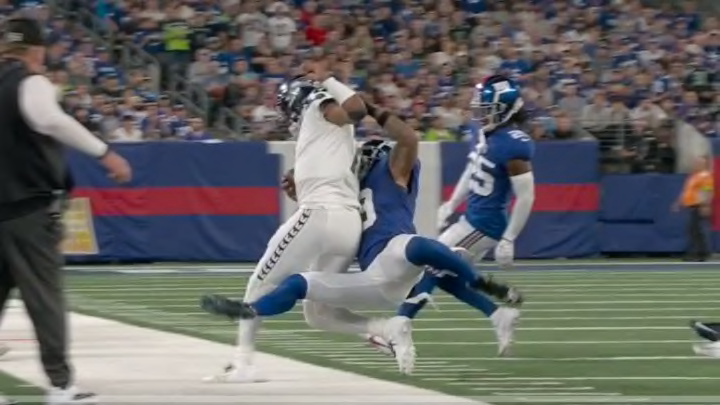 Geno Smith had to leave the Seattle Seahawks - New York Giants Monday Night Football game in Week 4 after a dirty tackle from Isaiah Simmons. Smith caught a pass that was tipped at the line and ran towards the sideline. He was met there by Simmons who grabbed Smith and left his feet for no good reason.
Simmons landed on the back of Smith's legs. As Troy Aikman noted on the broadcast, it was the exact kind of play that the NFL tried to eliminate by making the horse collar tackle illegal.
Watching the play in slow motion, there's no explanation for Simmons actions on the play if he wasn't trying to hurt Smith. Even though Smith was a runner and didn't need to be treated like a quarterback, there was no reason he couldn't have just shoved him out of bounds. Leaving his feet seems like the real giveaway.
Smith was furious after the play and went over to the Giants sideline. He eventually left the game to be evaluated for a knee injury and was replaced by Drew Lock. The Seahawks also lost Jamal Adams early in the game.
Simmons, the 8th pick in the 2020 NFL Draft, was traded to the Giants in exchange for a seventh round pick in August.
UPDATE: After missing the final two series of the first half, Smith returned in the second half.