Frank Clark Shouted 'I'm The F--king King' in Enthusiastic Postgame Interview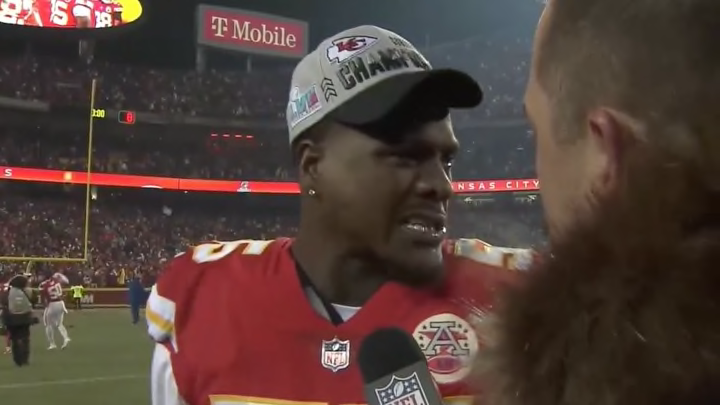 Frank Clark /
The Kansas City Chiefs took many well-earned victory laps last night after taking down the Cincinnati Bengals in the AFC Championship Game. The Bengals talked a lot of trash before the game (most notably nicknaming Arrowhead "Burrowhead") and the Chiefs did not hesitate to throw it all back in their faces after the game.
Frank Clark was especially vocal in his own postgame interview. The edge rusher notched 1.5 sacks and played a big role in Kansas City's dominant pass rush on the night. He proclaimed the Bengals can take their "bum ass" back to Cincinnati before declaring he was the "f---ing king" of Chiefs Kingdom.
"I don't know who the hell they think they was, calling this Burrowhead. I don't know who the hell they thought they was talking about going to finish us off. They gonna take their bum ass back to Cincinnati. They came to Chiefs Kingdom and got they ass thumped on... I told them last year they didn't get my best. I told them this year they barely got my best. In the playoffs, though, I'm the f--king king. They gotta holla at me every f--king game.
Certainly ambitious by Clark seeing as all Chiefs fans would proclaim Patrick Mahomes as their king. But everybody rides high after a big win like that and Clark got his moment in the sun. Good for him.