Donald Trump Has to Be Reminded What City He's In During Iowa Campaign Speech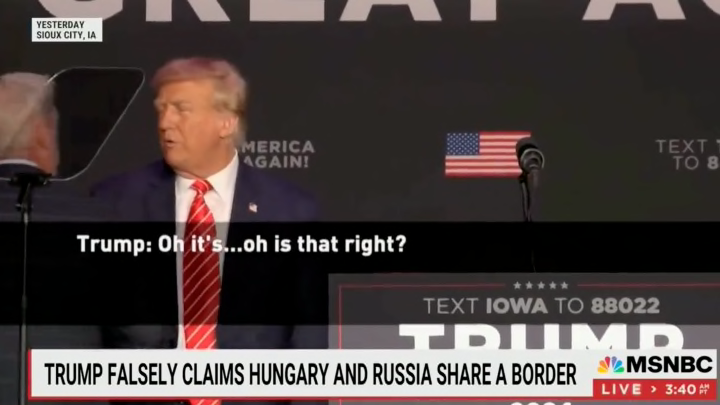 Donald Trump /
On Sunday afternoon Donald Trump was in Sioux City, Iowa for a campaign speech, finding time between his criminal procedures to get out and try to rally up some votes. The speech went viral almost immediately because Trump claimed Hungary had a border with Russia, which it definitely does not. It was not the only geographical mistake the former president made, either, as he launched into his speech with great enthusiasm by saying hello to the great people of Sioux Falls.
Sioux Falls is in South Dakota. Trump had to be reminded by Iowa state senator Brad Zaun that he was in Sioux City. He was quite surprised to learn that.
A classic Trump speech through and through. A few factual errors and he steamrolled over the Sioux City one after being notified like nothing ever happened. We are left to assume it's tough for Trump to keep track of where he is considering he's been campaigning while returning to Washington, D.C. to argue about gag orders with the judge overseeing his election intereference case.