DK Metcalf Lost His Mind Again, Shoved Cam Taylor-Britt, Got Called for a Drive-Killing Personal Foul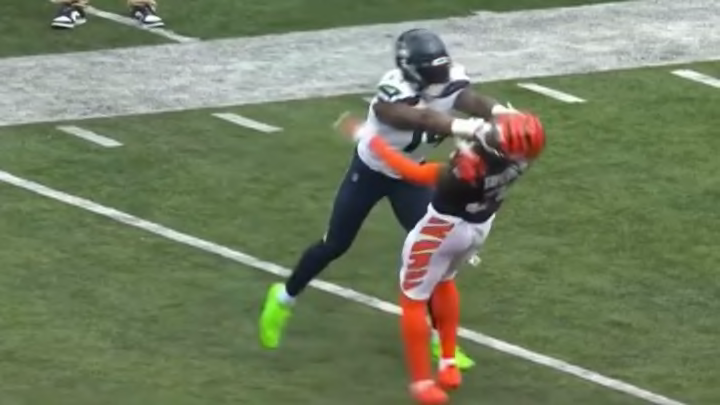 The Seattle Seahawks and Cincinnati Bengals met in Week 6 of the NFL season. The Seahawks scored first, but Joe Burrow and the Bengals came roaring back, answering with two touchdown drives on their first two drives. And then DK Metcalf lost his temper and got another personal foul.
That's defensive back Cam Taylor-Britt who was in coverage and then drew the negative attention from a furstrated Metcalf on that play. Metcalf easily could have gotten away with the original shove and grab there, but then he wound up and gave a forceful shove that sent Taylor-Britt flying. Taylor-Britt didn't even really look in his direction until the big shove came that put him on the turf. The penalty put the Seahawks in 2nd-and-21 and they punted a few plays later.
Metcalf didn't get his first reception of the game until there was 1:30 remaining in the first half. It went for 12-yards and the Seahawks ended up kicking a field goal on that drive to get the score to 14-10 heading into halftime.
Keep in mind, this is not unusual for Metcalf. He's been known to take a cheap shot on an unsuspecting defensive back in the past.