Nuggets Broadcaster Calls Out Kendrick Perkins, Nick Wright, and Chris Mannix at Championship Parade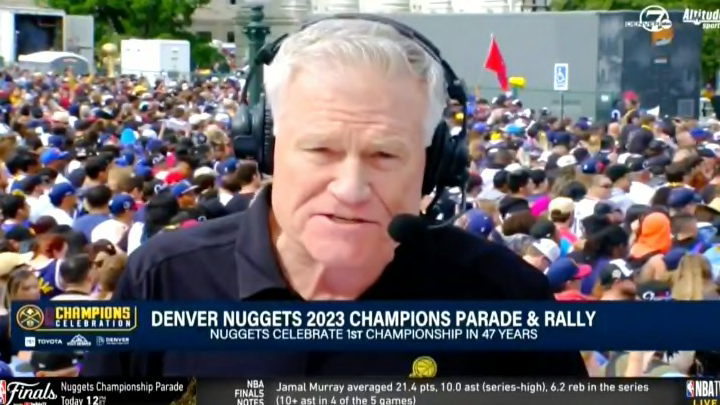 Chris Marlowe /
The Denver Nuggets are holding their first-ever championship parade today. It's a time for everybody to take their victory lap in the most literal sense. This includes broadcasters. Chris Marlowe, the play-by-play man for Altitude Sports, who took a moment to call out three national pundits by name for their negative Nuggets takes that have aged quite poorly-- Kendrick Perkins, Nick Wright, and Chris Mannix.
This was the last opportunity for Marlowe to break out the receipts and he took advantage.
To recap, here is what each pundit said to end up on Marlowe's hit list.
Kendrick Perkins grabbed the steering wheel of the MVP narrative halfway through this past season when he declared racism might be at play when evaluating Nikola Jokic vs. Joel Embiid. It was, and is still, inane to the greatest degree possible. It was also the moment where the MVP conversation flipped. Nobody took Perkins' racism connection seriously but for whatever reason it did make people start asking why Jokic should win his third straight award rather than if he was playing better this season than Embiid.
On a related note, Nick Wright has been supremely anti-Jokic for years. He was regularly banging the drum that Jokic is the worst MVP the league has ever seen and just about lost his mind when Jokic won two straight. In many ways he was the first and loudest pundit to proclaim Jokic overrated and a product of advanced analytics. His voice got lost a bit as everybody adopted that narrative when faced with Jokic becoming the first player since Larry Bird to win three straight MVPs, but Marlowe and the rest of Nuggets nation did not forget.
Chris Mannix, meanwhile, earned the ire and ridicule of everybody in the greater Denver area by saying the Nuggets were not interesting and that's why they lack coverage compared to the Los Angeles Lakers. Once the Finals were wrapped, he said Jokic didn't have an all-time great playoff run because he didn't face any players on his level, which riled up the fans even as they drowned in tears of joy after winning a championship.
The Nuggets are not exactly special in that a lot of talking heads had bad takes about them, but something about Jokic makes him a lightning rod for the worst angles of basketball discussion. He proved everybody wrong and earned some sort of apology from each of those three individuals, though. With Marlowe's last stand above we can finally put it all to rest.