Chris Mannix Berated By Denver Radio Hosts in Contentious Interview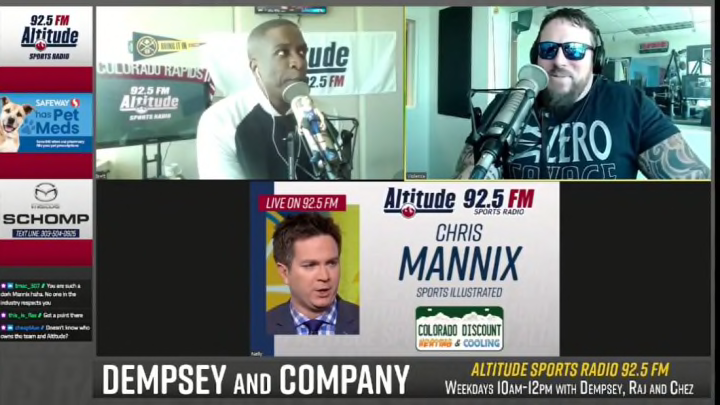 Sports Illustrated NBA reporter Chris Mannix is taking a lot of heat this week after saying the Denver Nuggets "aren't very interesting." On Friday, he did a guest appearance on Denver radio station Altitude Sports 92.5. It didn't go well and was extremely uncomfortable to listen to.
Mannix called into Dempsey and Company. and for more than 10 minutes, Mannix argued with host Chris Dempsey and sidekick Matt McChesney about various Nuggets-related topics. At one point, Vic Lombardi joined in to bash Mannix and question his opinions.
Here's a clip from the segment:
Mannix has been a really good reporter for a long time, but he came of looking awful in this segment. The worst thing he could have done in this situation was become combative and that happened right off the bat. Instead, the move is to present evidence to back up your claims in a calm manner and let the angry people rant and rave. he took the opposite tack like he was shot out of a cannon and it didn't go well for him.
Just not a great look.
Frankly, I understand what Mannix was trying to when he claimed the Nuggets weren't super interesting. I don't think he should have said it, but I understood what he was going for.
The Nuggets have Nikola Jokic, arguably the best player on the planet, but being good isn't enough to be "interesting." The Milwaukee Bucks have faced similar issues during the last few years with Giannis Antetokounmpo. They're great and Giannis is amazing but, other than some poor coaching decisions from Mike Budenholzer, what was there to discuss beyond the team being good? Not a whole lot.
These days there needs to be drama for things to be compelling. The Nuggets are just a really good basketball team and they're a ton of fun to watch. That's awesome but it doesn't get ratings on debate shows.