Cardinals Tackle DJ Humphries Hit With Absurd Ejection For Hitting Referee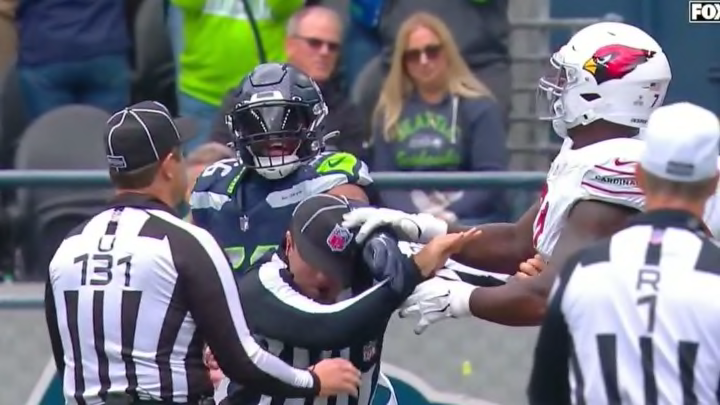 On Sunday the Arizona Cardinals visited Lumen Field to take on the Seattle Seahawks. These divisional rivals do not like each other one bit so there was always going to be a good chance that there would be some fireworks. It did not take long for things to spark off as there was a scuffle between the two sides early in the second quarter after Joshua Dobbs got drilled by several blitzing Seahawks; Dobbs threw a pick on the play but the refs threw a flag for roughing the passer.
it took the officials quite a while to sort everything out afterwards, though, leaving everyone to wonder what the hell was going on. Once they broke the huddle the refs announced the interception would not count due to the roughing the passer call, but they also announced an offsetting penalty-- Cardinals left tackle DJ Humphries was ejected for "making contact with an official." Viewers were quite confused by this because the broadcast didn't pick up any extracurricular activities that might've resulted in contact with an official.
Eventually a replay was shown and it proved the ejection was ridiculous. A ref was standing between Humphries and Seattle linebacker Jordyn Brooks. Brooks took a swing at Humphries' facemask and the left tackle batted his arm down. In the process both players hit the top of the ref's head, but only Humphries got ejected.
Not exactly a banner day for NFL referees. There have been brutal calls left and right and now we have an ejection that was obviously reactive from the official without any further investigation into how the incident happened and who should be penalized. Players who get tossed for making contact with a ref usually get hit with a hefty fine a few days later but I would be shocked if Humphries got anything other than an apology from the league office.
The only saving grace for this officiating crew is that the ejection didn't have immediate consequences as Dobbs ran for a long TD on the very next play. But Arizona will be without their starting left tackle and that may end up a big problem.