Colts Robbed By Two Late Controversial Calls That Went the Browns' Way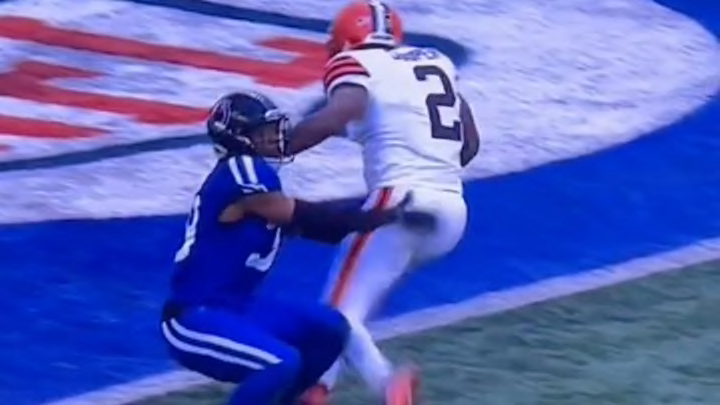 The Indianapolis Colts and Cleveland Browns banded together to create pure chaos in the early window with a back-and-forth affair where points were given away like candy and the team with the ball last would prevail. Which made the controversial call that decided things even more crucial. With 47 seconds remaining, the Colts held a 38-33 lead over the Browns, who had P.J. Walker in for an injured (maybe) Deshaun Watson. Cleveland's red-zone play was blown up by linebacker E.J. Speed, who forced a fumble that was recovered by the Colts' DeForest Bucker. Which would have meant game over.
But a dubious and painful illegal contact foul was levied on Darrell Baker Jr. in the end zone for briefly holding up Amari Cooper and that negated the big play. It sure looked like the action in the backfield happened before any contact that was ultimately inconsequential to the play, but some officials just like to live by the letter of the law.
A play later, Baker was whistled for a pass interference penalty on a ball that looked quite uncatchable.
That put the ball on the 1-yard line and set up Kareem Hunt's fourth-down plunge to steal the game for Cleveland with 15 seconds left for a 39-38 win.
Added together, this is a brutal 1-2 punch for a team to get at the end of a classic game. Even the most strident Browns fan has to be surprised that they got both of these calls when they mattered so much. On top of being quite thankful.