Blame the Mets' Collapse on the Trumpet Song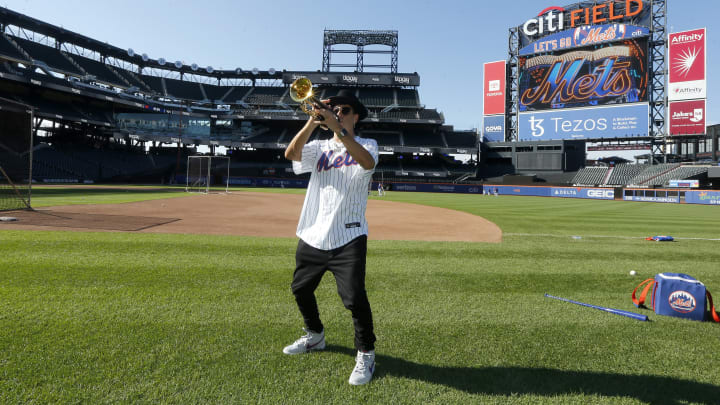 Los Angeles Dodgers v New York Mets / Jim McIsaac/GettyImages
The New York Mets were eliminated from the MLB Postseason on Sunday as they mustered just one hit and zero runs against the San Diego Padres. After a 101-win regular season, the Mets' postseason run lasted just three games. To put that in perspective, the Mets have only won 100 or more games four times in sixty seasons. They won the World Series in two of the previous three 100-win seasons.
Combine that with the league-leading $282 million payroll and it makes for one supremely disappointing season. It doesn't seem that long ago that everything felt like Mets magic. The height of the fun came on August 31st when Timmy Trumpet performed Edwin Diaz's walkout song, Narcos, live during a win over the Dodgers. The Mets were 83-48 after that game and 85-48 after two more wins. They were in second place in the National League.
The trumpet hangover hit and they lost 18 of their final 34 games to finish tied with the Atlanta Braves which left them in second place in the NL East and in the Wild Card where they lost to the Padres.
The final insult came when Diaz was put in the game with the Mets down four runs in the eighth inning. Mr. Met played the trumpet one more time. As many people noted, he might as well have been playing Taps.
The symbolism couldn't have been more clear. The New York Mets season fell apart when New York and the sports world at large embraced Timmy Trumpet. It's the sad truth and literally the only thing that makes sense.
And there was plenty of time to turn things around. Jerry Seinfeld identified the promlem a month ago. If the Mets had listened they could have avoided this entire situation.